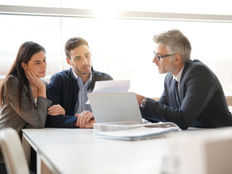 There is no doubt that blogging is on the rise among financial advisory firms.
For those of you who are already actively blogging, congratulations! For those of you who still might be on the fence, consider this.
Research shows that firms that blog receive 67% more leads than those firms that do not actively blog. In short, blogging can make a significant impact on your business.
Additionally, 81% of online consumers in the United States trust information and advice they receive from blogs. It might be fair to assume that your clients and prospects want to hear from you and will ultimately trust the financial advice you provide through blogging.
Getting Started
Whether you are a novice blogger and are just getting started, or you are an experienced blogger, there are always ways to improve and refine your firm's blog.
To begin, it is imperative that you commit to a set frequency of blogs rather than just dabbling and writing blogs sporadically. Determine a frequency that is realistic and best for you. Predetermine dates each week or each month, and decide on your topics.
The best way to do this is to create an editorial calendar. This helps you to outline your topics and commit to publishing dates. Your editorial calendar can be as simple as a spreadsheet that lists your topics in one column and the dates each topic will be published in the next column.
It will be easier to create an editorial calendar if you keep a log of a running list of potential topics. Your potential topics are truly infinite. Often, your best ideas will pop into your mind while you are meeting with clients and prospects. Jot down all of your ideas while they are fresh in mind. You might even want to do an audio recording of your thoughts on your smartphone or computer to make it easier to write the outline of the article later.
---
Content continues below advertisement
Writing Your Blog
Most research shows that readers skim blog posts. Your blogs do not have to be lengthy. As a matter of fact, they can be as short as 250 or 300 words. If you want to write a piece that is more in depth, blogs don't need to be longer than 500 or 600 words. In other words, keep it tight and stay focused on your topic.
Start by creating an outline or rough draft of your blog. Write an introductory paragraph introducing the topic and why you believe it is timely or the problem you are writing about. Next, create the body text. Include a few paragraphs with your key points and provide your solution or solutions to the problem you proposed. Finally, write a closing statement that summarizes your topic and provides a call to action for readers, if appropriate.
Once you are done writing the piece, create a title that will grab your readers' attention. You can also create a subtitle if you prefer.
To break up the text and make it more visually appealing, consider using subheads in your body text. If you have videos or any other visuals to make your blog stand out, use them. At the very least, select a stock art image that goes with the theme of your blog. Research shows that blog posts with images get 94% more views.
Enlist Help
To be a more consistent and successful blogger, you don't have to be an award-winning writer. In other words, don't kill yourself trying to be an excellent writer. If writing is not in your wheelhouse, don't avoid blogging for that reason.
Instead, enlist help. Write your outlines or rough drafts and then consider using a freelance editor to clean up your pieces for any typos or grammatical errors prior to posting.
Multiply the Value of Your Blog
Remember, the impact of your blog doesn't end once you click publish. Be sure to send your blog via email to your email distribution list of clients and prospects.
Also be sure to share it via your social media channels. In addition, ensure that any social media sharing links are easily visible on your post so that your readers can share your blog with ease on their social networks.
Use Hootsuite to post your blog simultaneously to all of your social media networks. Hootsuite also has Hootsuite For Advisors, which is a compliant social media management system exclusively for financial advisors. It can also track and measure your social media activity. This is a great way to see the impact of your blog posts and will motivate you to stay consistent.
The Bottom Line
The value of developing a regular blog for your advisory practice is tremendous. Not only does it position you as an expert, but it helps you provide trusted financial advice to your clients and prospects seeking this advice. Additionally, it generates significant leads and is the best way to increase traffic on your website, as well as drive your SEO value.
Remember to stay committed and regularly publish fresh blogs by sticking to your editorial calendar. By following a structured process, you will ultimately reap real business results.