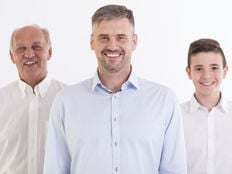 Develop your connection with the next generation through legacy tools.
One of the most pressing challenges advisors are facing today is how to address the loss of intergenerational family assets. The statistics are discouraging. Ninety-eight percent of the assets go out the door when the parents of adult children pass away.
What are you doing in your business now about this potential significant loss of assets and client accounts? Do you have a strategy to nurture the relationships of the next generation in your business?
You must build family-centric client relationships to ensure you have a deep connection with the next generation. An ideal way to get started is by helping your clients write legacy letters or documents, create legacy story books or videos, and facilitate profound ongoing family legacy conversations.
Leaving a Legacy Trumps Everything
Eighty-six percent of Baby Boomers believe that their legacy and family stories are the most important aspect of their wealth transfer, a study from Allianz Life reports. In other words, your clients' core values, life lessons, personal stories, ethics, morals, faith and guiding principles are far more important to them to leave behind than their assets and personal possessions.
Why not help your best clients get started in creating their own legacy documents and legacy story books, and help them facilitate legacy conversations with their family? This is a natural way to involve your clients' children and grandchildren, and it will strengthen your tie to them in the process.
---
Content continues below advertisement
What Is a Legacy Document?
According to Personal Legacy Advisors, LLC, a legacy-focused firm based in Massachusetts, a legacy document is a letter or recording created for descendants and/or successors. It can be written by either an individual or a couple. Although it is often shared during life, a personal legacy document is created intentionally to last beyond a client's lifetime for the purpose of communicating feelings, values, wisdom, stories, wishes, advice or important information not contained in their legal will, financial plan or estate planning documents.
Not sure how to get started? There are several companies that focus on helping clients create their legacy documents. Many of them provide step-by-step guides on how to write them, in addition to sample letters, templates and services you can hire. For ideas, check out personallegacyadvisors.com, legacystories.org, lifelegacies.com and storytrust.com.
Questions to Get Engaged
A great way to get your clients engaged in the legacy document process is by providing them with a journal to reflect and record important legacy aspects of their lives.
Provide them with some idea starter questions, such as:
What is your favorite family tradition and why?
What is your favorite family story and why?
Who has influenced you the most in your life and how?
If you could change one thing in your personal life, what would it be?
If you could change one thing in your professional life, what would it be?
What philanthropy or charity is most important to you? To your family? Why?
What is the best money lesson you've learned and why?
This is just a starting point. You may come up additional questions you'd like to share with them. The previous mentioned websites also have more questions to get the legacy thoughts flowing.
Legacy Storybooks And Videos
Creating a legacy storybook or video is another way to help clients leave their intangible legacy to future generations, and is truly a priceless gift to those future generations. It could be as simple as a series of pictures in a photo album, a memoir book that captures family stories, a video collage of photos with music that is meaningful to the creator, or it could even been a video recording of family members telling stories in their own voice to preserve for future generations.
The websites mentioned above are also good resources for storybooks and videos. There are great "do it yourself" apps that are available as well that you can share with your clients. Check out storycatcherapp.com and storycorps.org. These sites have apps that allow users to capture and share legacy stories that matter most to them all through the use of their smartphone. This is an easy and wonderful way to collect legacy stories that bind generations to come.
Legacy Conversations
Legacy conversations are ideal to have when families are gathered together. Often times, legacy conversations may naturally take place during the holiday season when families reflect on traditions and family culture.
You can also facilitate a more formal family meeting with your clients to assist them with legacy conversations. This is a key time to build those multigenerational relationships.
Some clients may want to have regular family legacy conversations. However, if your clients are apprehensive to have a formal meeting, you could suggest they have a more informal gathering as a family and give them some suggested legacy topics to discuss. Remind them that all family members can participate no matter how young or old they are. Every family is unique, so every legacy conversation will be different.
Suggest that they consider having a family member scribe or that they record some of the responses to the questions they discuss. If they are comfortable, ask them to share the notes from the meeting with you after it takes place.
Legacy Conversation Starters
Here are some potential questions to help facilitate meaningful legacy conversations:
What has been the most joyous moment in your life?
What is your earliest memory in life?
What has been your proudest moment in life?
In three words, how would you like to be remembered?
What is the single most important lesson you have learned in life?
What mistake have you made in life that you'd like others to avoid and learn from?
Again, these are just idea starters. You can certainly add to the list.
Keep in mind legacy tools are also an attractive way to engage your clients who may not like to participate in discussions about their investments. Legacy planning is a way to inspire those clients to participate by focusing on the non-financial aspects of their wealth.
The Bottom Line
There truly is a great need for multigenerational client discussions and engaging every age group of your current clients. By introducing legacy tools to your clients, this will help you to connect with the next generation and uncover the entire family's' core values in order to protect those assets that may otherwise go out the front door. You will deliver a more meaningful family-centric client experience and uncover amazing stories that will give you a deeper understanding of who your clients are and what they value most.