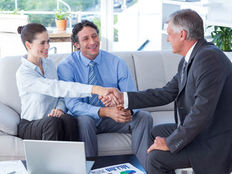 Trust. You either have it with your clients or you don't. There's really no in between.
They say that trust takes years to build, seconds to break, and forever to repair.
This adage holds true with the advisor-client relationship as well.
The bad news is that the financial services industry is one of the least trusted industries overall. However, the good news is that 81 percent of investors who work with a financial advisor give their advisor a high trust rating.
It goes without saying, all financial advisors should strive to gain that highly coveted high trust rating, and yet, almost a quarter of investors have had an experience that they felt undermined trust with their current or previous financial advisor.
Do you know where you stand with your clients? Do they trust you explicitly?
Be sure to explore our practice management section to keep up to date with the recent trends.
Factors of Trust
Building trust in any client relationship undoubtedly takes time and significant effort. After all, your clients are entrusting you with their hard-earned money and putting their faith in you to help them build, protect and transfer it. That is certainly not to be taken lightly.
Research from Vanguard concluded that there are three main categories of trust related to financial advisor skills, practices, and behaviors with their clients. The three categories Vanguard identified were functional, ethical and emotional trust.
Functional trust was identified as accounting for 17 percent of overall client trust. Functional trust included a financial advisor's credentials, core skill set and the daily operations of their advisory practice.
Ethical factors represented 30 percent of overall client trust. Ethical factors included behaviors of conduct, specifically, acting in the best interest of clients.
The final and largest component of trust was identified as emotional trust, accounting for 53 percent of overall client trust. Emotional trust factors were identified as the intangible areas of the advisor-client relationship. These were the elements of the relationship that contributed to positive feelings and confidence by the client.
Visit our Q&A section here to learn what the ETF experts have to say.
---
Content continues below advertisement
Breaking Trust
Breaking trust with a client is a dangerous zone advisors never want to enter into. The path of distrust is shaky and often not repairable.
Vanguard's research indicated a breakdown in functional, ethical or emotional trust is enough to decrease trust, and a breakdown in more than one of these components will most certainly have a damaging effect on trust.
There are many specific reasons that can lead to distrust, however, Vanguard uncovered the most common reasons were related to investment performance and neglecting the overall advisor-client relationship.
While investment performance is an area that cannot be directly controlled, the advisor-client relationship most certainly can be. This is an area advisors should always be working on.
Strive to be as transparent as possible, focus on educating clients and prospects, and do not ever overpromise. If you make a mistake or misstep, fess up. Admitting that you're wrong immediately will go a long way in repairing relationships.
Ask yourself the following tough questions as they relate to trust.
Is being a financial advisor just a job to you or do you believe it is your true calling to be an advisor?
Do you truly believe trust is a special bond in the advisor-client relationship?
How committed are you to your relationships?
What do you do that is unique for your clients and prospects to go that extra mile for them?
What qualities do you bring to your relationships that demonstrate you truly care and create deep connections?
Do you always act in the best interest of your clients no matter what?
Do you help them make the best financial decisions possible to give them peace of mind?
As the industry continues to change and robo-advisors continue to grow in popularity, demonstrating what makes you different as an advisor and establishing genuine trust with clients is more important now than ever before.
ESG investing has been gaining traction in recent times. Be sure to check out our dedicated ESG Investing to learn more about this investing theme.
The Bottom Line
Trust is your most valuable asset with your clients. Once you have established it, you will undoubtedly have that client for life.
In other words, there is a direct correlation between trust, client retention, and loyalty. Greater client loyalty ultimately leads to more referrals and increased assets.
Building and maintaining client trust takes true commitment, but it is definitely worth every effort.
Keep visiting our news section for the latest developments in the ETF space.