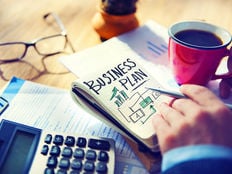 Do you have a formal business plan for your practice? Research shows only 50% of financial advisors have a written business plan.
As Benjamin Franklin once said, "If you fail to plan, then you are planning to fail!"
While larger advisory practices are more likely to have a written business plan, interestingly younger financial advisors are the most likely to have a formal plan in place.
By not having a plan formalized, you may be setting yourself up to falter. If you don't take the necessary time to plan where you want your advisory business to go in the future, how do you think you will get there without failure?
Avoidance Factors
Chances are when you hear the words "formal written business plan" you might be rolling your eyes and visualizing a formal bound document that is numerous pages in length. This often causes advisors to avoid creating one because it seems like a lot of work and a huge time commitment.
It doesn't have to be. A business plan can be as concise as two to five pages in length. And while it will take time and focus, it can likely be accomplished in a day if you devote the proper focused time and energy to it.
The strength of a business plan is actually using it and revisiting it once it is complete, not letting it collect dust on a shelf. After all, what's the point if you are not going to use it?
Pick a specific timeframe that is realistic for you to revisit the plan. While monthly is ideal, every other month or quarterly may be more achievable for you. Whatever you decide, be sure you mark these dates on your calendar and stick to them. It is also imperative that you always revisit your plan at year-end, to assess where you are and plan for the new year ahead.
---
Content continues below advertisement
Executive Summary
Most business plans start with an executive summary. It seems sort of counterintuitive, but the executive summary of your plan should be the final step of writing your business plan. The executive summary distills all the details of the plan and acts as an introduction and overview to the plan itself. The remaining elements of the plan do not necessarily need to go in any particular order. The following are elements you should consider including in your business plan; you can ultimately decide what order you want them to follow.
Mission and Vision
Your written mission statement and vision statement are valuable elements to your business plan. Your mission should focus solely on the present state of your advisory firm and define the ultimate purpose of your practice.
On the other hand, your vision statement should focus on the future of your financial advisory practice and describe where you would like your firm to be in the years ahead.
Target Market
Your target market should identify who you will serve and who exactly is your ideal client. What are their demographics, their specific concerns and needs? What will you ultimately do for them and how will you reach them? Be sure to also identify their investable assets.
You also will want to identify who will help you get in front of your target market audience. In other words, who are your centers of influence? Your centers of influence are a vital part of your target market as well, so be sure to take the time to identify how you will reach them.
Competitive Analysis
Your competitive analysis should identify who your competitors are and define what makes you unique in the financial services marketplace. What specific traits do you have and what in your history makes you different from other financial advisors?
In this section you may also want to detail where you want to be among your advisor competitors, as well as how you will achieve the goal you are setting.
Service Model and Process
In this section, answer what your service offering is, what products and opportunities you offer your clients and what your process is.
Clearly identify the services and processes your practice has in place that define your unique client experience model. How is your service model and process different from your competition?
You should also detail how you are compensated for each service you offer. Articulate not just what your fees are, but also what your actual time costs. If you do a lot of financial planning for clients, this exercise is imperative.
Financials
What are your goals for assets under management, as well as production levels? Be sure to include an assessment of the profitability of your advisory firm. Incorporate descriptions of both the present and future in the assessment of the financials of your business practice.
The Bottom Line
Don't create an elaborate plan that contains unrealistic and unachievable goals. As stated previously, your business plan shouldn't be a bound document that is just for show, sitting on a shelf collecting dust. It should be usable!
Time spent on creating a written plan is invaluable to your practice. Having a clear and concise written business plan to revisit truly acts as a compass to help you navigate your advisory business and stay on the right track.