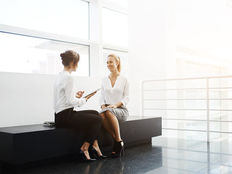 Looking for a way to make deep connections with your female clients and prospects?
Philanthropic activity just might be one of the very best ways to connect with them.
Gone are the days when a woman's philanthropic activity and social status were solely tied to their affluent husband's wealth.
In the not-so-distant past, many women may have felt that the term "philanthropist" only referred to an older, wealthy man who simply donated his money to put his name on buildings.
Today's women, however, are embracing the term "philanthropist" as their very own and desire to leave their charitable wishes as part of their financial legacy.
Women Want to Be Philanthropists
What does this mean to you as their financial advisor? Now, more than at any other point in history, women desire to be philanthropists. Women are economic powerhouses. They are educated, thoughtful, sophisticated, as well as distinguished as philanthropists.
Ironically enough, philanthropy is often one of the most underexamined portions of a high-net-worth individual's portfolio.This is an area financial advisors should be focusing on to better meet the needs of their clients – especially their female clients.
---
Content continues below advertisement
The Research
Consider this: women are more likely than men to give to charity and are also more likely to give larger amounts of money than men to charities. Women are also more likely than men to give their time volunteering.
In addition, women have great influence on gifting decisions when couples are giving together. As a matter of fact, a survey from Bank of America shows that in nearly 90 percent of high-net-worth families, women are either the sole decision-makers or equal partners in charitable decision-making.
Women Are Altruistic
Women view philanthropy as part of their ideal life. In general, they want to give their time and money based on their values and their desire to transform society. They truly are altruistic.
They want to create a ripple effect of sorts and desire to make collective change and make this world a better place.
How to Help Them
Women are more likely than men to map out a charitable giving strategy and budget; however, they are less likely to tolerate risk with their philanthropic assets.
In addition, women are more likely to have questions about the finances of giving. According to Fidelity Charitable, women are less confident than men are when it comes to deciding which tax strategies or methods to use for charitable giving, as well as which assets they should contribute to charity.
These are tremendous areas of opportunity to engage with your female clients about the charitable desires and wishes that are near and dear to their hearts.
Wealthy women, in particular, have strong wishes to pass down the intangibles in life to the generations to come, often with a strong emphasis on their charitable passions.
As the research shows, women surpass men when it comes to the level of involvement in philanthropy, in terms of both time and money perspectives. They often are making more of the giving decisions and are also the most likely to serve in leadership positions within charitable organizations.
Some advisors may already understand the importance of women's interests and desires in philanthropy, but for some reason or other, they are hesitant to address the subject. This is a huge missed opportunity. Don't hesitate with this subject. Ask them how you can serve them in this important area.
Additional Resources
If you are seeking additional resources to help you, the Women's Philanthropy Institute (WIP) is an organization that provides education and training about women and philanthropy. The Institute provides various means to encourage philanthropy, including publications, articles and speakers.
Another great resource is the International Association of Advisors in Philanthropy (AIP). Its mission is the transformation of philanthropy through collaboration. It is their belief that philanthropic capacity is built through collaborative programs and projects that unite financial advisors and other professionals in a common goal. AIP is based in Chicago and hosts an annual conference.
In addition to these organizations, there are likely many others in your market and in your own community. Do some research of your own and seek them out.
Remember that many women might first learn about a particular charitable cause through friends, sitting at their kitchen tables or in their living rooms. You may do the same! Make this a priority in your networking conversations. You may be surprised at the connections and resources you uncover.
The Bottom Line
The relationship between women and philanthropy has always been a strong one when it comes to time and compassion. But now it has moved to the next level.
Women have been strengthened by increasing economic power, as well as education. They truly are rising philanthropists.
Think of the value you will be providing as a trusted advisor to your female clients by helping them to fulfill their charitable passions and pass down their philanthropic wishes to their family and loved ones. This is a profound way to separate your business from the competition.