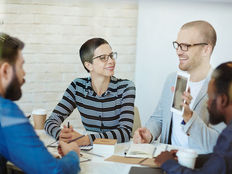 Client appreciation events are an excellent way to demonstrate your deep gratitude to current clients and to build client retention. They are also an outstanding opportunity to be introduced to your best clients' family, friends and business associates.
Hosting client events builds trust. Your current best clients are your absolute greatest advocates. While you likely already do things such as sending your current clients birthday, holiday and anniversary cards, as well as small gifts for major life milestones, connecting with clients socially outside of meetings at your office to review their portfolios builds your connection to them in an even more meaningful way.
Client events are also an opportunity to build multi-generational relationships, as well as a strong referral network. Your top clients probably associate with friends who are like-minded. What better way to replicate your best clients than through those who are already raving fans?
Change Your Marketing Language
First and foremost, don't call it a seminar. Call it an event. Clients respond better to the word 'event'. Seminars may suggest selling, and neither clients nor prospects want to be sold to at a client appreciation event.
In addition, seminars imply a lot of people. Keep it intimate. Clients want to feel like they are special. Aim for a total of 20 to 30 total attendees.
While larger seminars may have been the norm in the past, intimate client events make a bigger impact, foster better conversations and deepen connections. Furthermore, hosting several smaller events can be much more impactful than just one huge event. It will also be more cost effective on your marketing budget in the long run.
---
Content continues below advertisement
How Often Do You Host Events?
Do you currently host events? Are they memorable and effective?
The key to hosting client events is to do them regularly. You can't just host one event and check it off your to-do list. Hosting events should be incorporated into your yearly business plan as part of your marketing strategy.
What is the best cadence for you to host events? You have to identify what is most realistic and achievable for you and your team. Once a month? Every other month? Quarterly? At an absolute minimum, you should try to host an event twice a year.
Getting Started
Make a list of your top 10 to 15 clients. Start by inviting them and ask them to bring a friend. The goal is to ultimately have half clients and half prospects at the event.
If you are unsure what type of event to host, ask yourself what your top clients have in common. What do they like to do and what would interest them most? What will encourage conversation, deepen relationships and lead to new referrals?
Whether it's a wine tasting, golf outing or charity event, you will know best what will work for clients in your market. You can get creative and do a cooking class, fashion show or art class. Or keep it simple with a BBQ or luncheon.
If you want to incorporate an educational component, consider your ideal clients' age group and what topics are on your clients' minds. If you have clients who are caring for aging parents, a presentation on Alzheimer's or assisted living facilities may be appropriate. If your clients have younger children, a session on college planning may be useful. If you do opt to have a speaker at your event, keep the presentation to less than 30 minutes so that there is still ample time for interaction and conversation.
While it is important for you to thank your guests for coming, keep your comments to the group as a whole brief. The focus should be on them and not you. And again, do not try to sell anything from the stage.
Details Are Paramount
When planning an event, focusing on the details is utterly important. Work on building a simple, repeatable process for your client events and replicate the process every time you host one.
When inviting your guests, you can certainly email your invitation. However, sending a stamped invitation in the mail will have the greatest impact. A good rule of thumb is to send your invitations six weeks prior to the event.
Two to three days before the event, do a pre-event call campaign confirming those who said they were attending can still attend. This will get your attendees to verbally commit to coming as well as ensuring they haven't forgotten about the event.
The day of the event, arrive at least an hour prior to your guests so that you feel organized and relaxed. Be sure to have nametags for all attendees since your clients will be bringing guests you likely have not met before.
At the event, enjoy yourself and interact with your guests as much as possible. Consider using a brief event evaluation to gain feedback from your attendees.
Don't Lose Your Momentum
The follow-up process is where most advisors fail when it comes to hosting client events. Don't lose the tremendous impact of a well-executed client event by falling short on the follow-up.
Create a repeatable follow-up process and make it personal with several touch points. Within 48 hours post-event, send an email to each attendee thanking them for attending. Consider including photos that were taken at the event for a personal touch.
Within a week of the event, each attendee should be mailed a handwritten note thanking them again for attending and notifying them that you or a member of your team will be calling them. Within seven to 10 days, each attendee should receive a phone call. The goal from current clients should be to receive feedback, as well as names of any prospects that may want to attend a future event. The goal from prospects should also be to receive feedback, to answer any questions they may have, as well as an effort to set up a one-on-one time to meet. This is just a suggested process. Your process may vary, however, be sure to create a follow-up routine of your own.
If you don't commit to a follow-up process, hosting the event is a waste of your time, as you will not see the results. In addition to follow-up, consider tracking your event statistics. For example, how many quality prospects have turned into clients? Have you received new assets from existing clients post-event? While client events bring tremendous qualitative value, tracking your results is an excellent way to quantitatively measure your return on investment.
Bottom Line
Client events are worthwhile not only to deepen your client retention and acquiring new ideal clients, but also to increase the well­being of your firm itself. Don't forget, as you host these events you are also building community with your team and deepening your connection with them.
Clients have a great desire to feel like more than just assets to your firm.
The trust and loyalty that you can build through client appreciation events will create continuous growth for your business. And as a bonus, they also make for fun and memorable experiences.