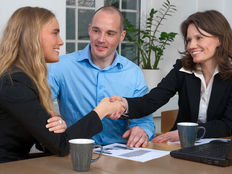 Resources to help you grow your connections with the underserved economic powerhouse.
You simply cannot ignore the economic power of the female investor. She is the lioness, hear her roar!
The statistics on this economic powerhouse are truly astounding. We've all seen them. Women have surpassed men and control 51 percent of all U.S. wealth. They currently control $14 trillion and are estimated to control $22 trillion by 2020.
In the next 40 years, women are estimated to control 70 percent of the $41 trillion dollars in wealth expected to exchange hands.
The bad news, which we have also seen, is that women are the most dissatisfied with the financial services industry in comparison to other industries, on both a service and a product level, according to Boston Consulting Group. Simply put, women as a whole feel underserved when it comes to the financial services industry.
What Are You Doing to Serve Them?
The question becomes, what are you doing in your practice to serve female clients and prospects? These economic statistics are certainly not new to the industry, so when you reflect on your own business, have you changed your approach?
Women are not a niche market, as they may have once been viewed years ago. If you approach working with women as a niche, you will not succeed. How can you earn the trust of women investors and make them feel valued and respected, as well as confident when it comes to their financial future?
---
Content continues below advertisement
Three Great Reads to Help You Serve Them
There are countless books that have been written on the topic of women and investing with the female investor in mind. There are not as many, however, that have been written for financial advisors specifically on how to grow your connections and better serve her. Here are some good ones that will provide you with ideas to deepen your relationships with female clients and prospects. They are in no particular order.
This book really gives a great perspective to financial advisors as the author, Kathleen Burns Kingsbury, is a wealth psychology expert with more than 20 years of experience in coaching women. Kingsbury has been extremely well published in the financial services industry as a whole.
Her book is very practical, and it's written for both male and female financial advisors. (She also wrote a book for advisors on working with couples titled How to Give Financial Advice to Couples).
This book focuses on attracting and retaining high-net-worth female clients and does a nice job breaking down the psychological fundamentals of women and wealth. It also outlines the skill sets advisors need to effectively communicate and advise affluent women. She reminds you to be sensitive when working with women; to build trust, actively listen and foster confidence with female clients.
Adri Miller-Heckman, a 25-year financial services industry veteran, authored this book to help advisors understand the differences in how men and women relate to their money. In this book, Miller-Heckman encourages financial advisors to develop their personal story to specifically inspire both confidence and trust faster with female clients and prospects.
This book outlines a more purpose-driven process that appeals to female investors. She offers excellent time-tested scripts and step-by-step ideas to create more meaningful relationships with female clients and prospects.
Author Holly Buchanan, a marketing-to-women guru, outlines in this book that you cannot sell financial services to men and women the same way. She explains that even if men and women buy the very same investment products, their buying processes, questions and communication styles are extremely different. As an advisor, you must be aware of these stark differences.
This book outlines the differences and provides strong action plans to implement at the end of every chapter. It's packed with marketing ideas and sales tips.
Three Great Reads to Share With Her
It can be difficult to scour and keep up with the numerous books that are written specifically for female investors in order to find the ones that really stand out. Here are some excellent ones that you will want to read for yourself, and will also definitely want to share with your female clients and prospects to build your connection with them.
Consider sharing a copy of one of the books (or another book you recommend) with a handwritten note with your female clients and prospects. She will appreciate your personalized effort of sharing resources with her to empower her personally, financially and professionally. Once again, these are in no particular order.
Co-authored by two female financial services industry veterans Ellen Rogin and Lisa Kueng, this truly unique book helps female investors build their investment portfolio in line with what they define as the most meaningful in their lives.
The goal of this book is to help female investors take the stress out of the financial planning process and create a financial plan to build the life they have envisioned through the 'prosperity picture' exercise. You don't want to miss this one.
Author Kimberly Palmer, a national money columnist, tackles the subject of moms navigating the financially challenging years of parenting while having a career.
This book shares experiences and stories for mothers. It also provides savings strategies, checklists, tools and, most importantly, action steps to handle balancing parenthood with maintaining a career.
Although this book is not due to be released until January 2017, this one authored by former Wall Street powerhouse-turned-entrepreneur Sallie Krawcheck, is sure to be an excellent read.
The summary of the book boasts picking up where Sheryl Sandberg left off, showing women how to take their careers to the next level by playing by a new set of rules that build on their natural strengths.
While this book seems like it will be more focused on women and elevating their careers, it is sure to have some meaningful financial lessons for women in it as well.
Bottom Line
The economic strength of women is not new and it will only continue to grow. It's imperative to adjust your practice to speak to the female investor, and to her unique communication style and needs. Although the industry as a whole has significantly stepped up its marketing efforts toward women, advisors need to be sure to deepen their individual relationships and build trust to ultimately improve her overall satisfaction.
Be the advisor who steps up to serve above and beyond expectations, so we can begin to shatter those perspectives of women feeling underserved by the financial services industry!