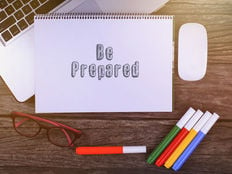 There's no escaping it. The financial services industry now more than ever continues to change.
Whether it's the state of the DOL ruling, the new presidency, the markets, the regulators, trending products, technology, compensation or your clients themselves, the industry will undeniably continue to change.
However, change is necessary for our industry, as well as for your business, to thrive and not just survive. Only you can decide how you will respond to change. Will you fight it? Or will you embrace it?
Change Can Bring Positive Outcomes
We are creatures of habit. If we are honest with ourselves, most of us prefer certainty, which brings predictability and comfort.
Let's do a quick word association game. What words come to mind when you hear the word "change"? Typically the words are negative, right? Words like "fear," "the unknown," "anxiety," "confusion" and "feeling defeated" come to mind. However, there are many positive outcomes that come from change. Transformation, growth, innovation and advancement are all positive things that come from change.
Learning to embrace change is a process we must continue to manage. And believe it or not, successful advisors deliberately implement changes in their businesses even when things are going well.
Let's take a look at some strategies to help you stay focused during times of change. You can use these very same tactics to comfort your clients and prospects during times of change, as well.
---
Content continues below advertisement
Focus on What You Can Control During Times of Change
We typically have zero control over the changes that we face. What we can control, however, is how we react to change. And the good news is, if you control your reaction to change, you will find opportunities that others will miss. On the flip side, if you focus on the things you cannot control, you will likely completely drain yourself in the process.
When dealing with change, keep these four tactics in mind.
One of the most important things to do when dealing with change is to acknowledge the change and the emotions associated with it. Don't fear or ignore your emotions. And in order to get those emotions out, it's OK to vent! Emotions don't disappear overnight and it is healthy to vent. Go ahead and express your frustrations; normalize your feelings. The key here is to be sure the venting period doesn't last too long.
To help you with acknowledging your emotions, try an exercise of expanding the "what if." Instead of fixating on the emotion you're dealing with, ask yourself "what if" questions associated with the change; turn it into a productive exercise. The secret is to take the "what if" questions all the way until you come up with plans to deal with the feared outcomes of change instead of being paralyzed by them.
Once you've acknowledged your emotions and asked yourself "what if", stop the negative and fearful thoughts that you are associating with the change in your mind. As soon as the negative thoughts start creeping in, replace them with rational and positive thoughts. Create an attitude of excitement, and be an influencer and driver of change. You will build confidence, feel empowered and ultimately feel much less fearful.
To go along with staying positive, rather than focusing on the challenges posed by the change you are facing, look for the areas of opportunity. Take advantage of the change. Take the time to create an exhaustive list of how you can specifically capitalize on the change in your business practice. You will likely quickly see the positive opportunities that can significantly impact your business before your competitors.
In line with the old proverb "He who fails to plan, plans to fail," successful financial advisors always create a written plan and operate according to that well-established plan. Sticking to a plan is always important, but it can be especially critical during times of change. Once again, this will place you well ahead of your competition in the marketplace.
Don't use all your energy resisting change and being paralyzed by fear. It's important not to put unnecessary stress on yourself.
Remember to recharge and take a "time-out" during periods of change. Effectively navigating change really does require a lot of focus and energy. Find specific ways to recharge yourself when you are feeling drained, whether it's through hobbies, working out, simply taking a walk, listening to music or other activities you may find energizing.
Bottom Line
These four strategies certainly aren't rocket science, but really should serve as good tactics to remember to keep you focused when you are dealing with all of the changes in the financial services industry today. As you begin to master embracing change through these techniques, you will also be much better armed to coach your clients and prospects through times of change and turbulence, as well.
Remember, you are not alone during these times of change in our industry. By staying positive, seizing the opportunities and being proactive by putting a plan together, you can be the advisor that is prepared to ride high on the crest of these industry changes instead of being rolled over and taken under, as some of your fellow advisor peers might be. Stay focused and embrace the changes of the industry of tomorrow!