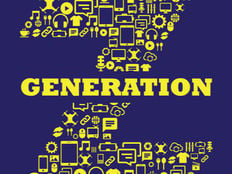 Gen Z. Have you heard of them? It is certainly not too early to think about engaging them in your business.
Who is Gen Z? They are the youngest generation, born after the highly talked about and sought after Millennials.
While there is some discrepancy as to when the earliest Gen Zs were born, most consistently agree that they were born in 2000 or later. In other words, the eldest members of Gen Z are teenagers and are entering college.
While many have jobs already, they will soon be joining the full-time workforce.
This generation makes up over one quarter of the U.S. population, and by 2020 it is estimated that Gen Z will account for 40 percent of all consumers.
Gen Z Attitudes and Beliefs
Generation Z, also called Post-Millennials and the iGeneration, have always lived in a world of continuous updates. Fast changing consumer technology and instant access have been commonplace to them their entire lives. Gen Z has never known a life without smartphones, tablets and social media.
While every generation has its own attitudes and beliefs, Gen Z's characteristics seem to be overall very favorable. They are smart, hard-working, diverse and inclusive. This is likely due to growing up during a rapid technological revolution, social change and economic volatility.
Gen Z has an entrepreneurial spirit. Research indicates that 72 percent of high school students want to start their own business.
Gen Z also has a strong desire to make a difference in the world they live in and place high importance on volunteering. Research shows that 76 percent are concerned about humanity's impact on the world and 60 percent indicate that they want their professional job to impact the world.
Having said that, they are not a very optimistic generation. Fifty-eight percent of Gen Zs indicate that they are somewhat or very worried about the future.
---
Content continues below advertisement
Gen Z's Views on Finance
According to a study by Raddon, a financial services research and analytics division of Finserv, Gen Z is becoming exposed to financial topics at a much younger age than previous generations.
A remarkable 30 percent of Gen Z have already attended a financial education program or seminar. Additionally, over half of Gen Z have taken required finance classes at school. This has simply not been the case with previous generations, which has likely contributed to the high levels of debt that a large percentage of Americans face.
Gen Z is being touted as more fiscally conservative and responsible. If you think about it, the eldest members of this generation grew up during the recession and likely witnessed their parents' (and grandparents') financial struggles. This is likely why they are interested in working hard, saving their money and understanding where their money is actually going.
According to the College Savings Foundation research, Gen Z is also very averse to taking on student loans to pay for college. This is a far cry from previous generations who took on significant debt to pay for higher education.
The Opportunity
Due to their overall fiscal conservatism, Gen Z seems like they might be much more approachable to having a financial planning conversation than their Millennial predecessors.
For the financial advisor community, this is really good news, as well as a huge opportunity. Let's face it, Gen Zers are the children and grandchildren of your current clients and prospects. Having a strong multi-generational relationship building strategy is imperative to your business.
How to Connect
If you aren't already, start hosting events for your current clients and prospects and encourage them to bring their Gen Z children and grandchildren. Educate them on age-appropriate financial planning, debt and the basics of finance.
Strongly consider asking current clients to bring their children or grandchildren to client meetings with them. Specifically ask your clients for an introduction to them.
Raddon's research indicates that Gen Z will rely on more than just digital channels to deal with their finances. The human connection has a high place of importance to them. Establishing a personal relationship early with them is paramount.
Connect, meet and continually look for opportunities to educate this generation early. By doing this, you will become top of mind as a trusted advisor when they begin handling their own finances and ultimately start inheriting their parents' and grandparents' estates in the not-so-distant future.
The Bottom Line
It is never too early to engage with this powerful, up-and-coming generation. By 2020, Generation Z is expected to control a whopping $3.2 trillion in purchasing power. As the generations change, advisors need to engage and connect with them sooner rather than later to stay relevant in a competitive marketplace.
Many advisors today might be overly focused on cracking the code to connect with the highly coveted Millennial generation. Gen Z just might be your next opportunity for growth. And it could be sooner than you think!