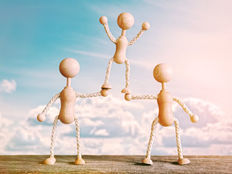 They say it takes a village to raise a child.
This traditional African proverb rings true for most parents. However, for parents raising children with special needs, this is extremely true as many of them face life-long, day-to-day challenges that other parents cannot begin to comprehend.
The Tough Statistics
One in every 26 American families are raising children with a disability.
In looking at these statistics, the chances are high that you have clients and prospects with special needs children. There is an urgent call to guide these families in helping to create solid financial and estate plans.
Children with disabilities can have a litany of expensive levels of healthcare, including psychological and behavioral care. They may require physical, occupational and speech therapy as well as special schooling. These care costs, in addition to unpredictable medical costs, grow at staggering rates and may continue on even after their parents pass away.
The cost to raise a child from birth to the age of 18 is about $240,000, according to the U.S. Department of Agriculture. Research shows that raising a special needs child can multiply that number by four.
Most parents plan to take care of their children financially through the end of college, however, for special needs families, they may have to plan for a lifetime. As a result, in some cases the parents sacrifice so much financially that they may neglect planning for their own retirement.
The harsh reality is that even the most conscientious parents quickly begin to recognize that there are vast amounts of planning issues of which they are not aware and need your help with as a trusted financial advisor.
---
Content continues below advertisement
Listen to Their Story
If you are working with a client or prospect with a special needs child, the very first thing you need to do is listen intently and let them tell you their story. Wait to ask any technical planning questions. They are likely overwhelmed with their utmost concern being the health of their child.
If you do not know whether a client or prospect has a special needs family member, consider asking an unobtrusive question, such as if there any family members who have a diagnosis that you should know about. This may allow you to ease into the conversation in a more gentle way.
Be prepared for strong emotions with these conversations. Be as delicate as possible when asking the more technical planning questions. You'll need to uncover if the child will have a shortened life span. Will the child be susceptible to chronic or terminal illness>Will the child ever be able to live or work independently in the future? These answers are necessary in order to help you guide the parents and begin to put a plan together for the family.
A Host of Complex Planning Issues
Special needs families can have a host of complex financial planning issues. Planning and investing may be significantly more complicated than for your other clients. Be patient, as it may also be a longer process to bring them on as new clients.
It is critical that you are well versed and that they know how to access, as well as preserve, government and public benefits, such as disability and Medicaid. The ABLE Act, which was signed into law in 2014, also supplements Medicaid and private insurance. It provides tax-advantaged savings accounts that can be used to cover qualified disability expenses such as but not limited to education, housing and transportation.
You, as their financial advisor, need to be aware of their unique needs including disability law, life insurance, special needs trusts and estate planning.
Financial planning is especially important for families with special needs children because it is possible to protect funds. For example, money that might be willed by grandparents to the child can be protected using a special needs trust (although, there are rules as to how the money can be spent). It must be a special needs trust and not a regular trust. You, as their advisor, should work with a highly qualified attorney to ensure it is constructed properly. Without a thoroughly structured special needs trust, the inherited monies could potentially affect the special needs child's eligibility for public benefits such as Medicaid.
To that end, it is also important to keep the special needs child's name off of any assets and be sure he or she is not listed as a beneficiary on any accounts, as this may also disqualify the child from government benefits.
Becoming a Guardian
At age 18, children legally become adults, making them legally able to make their own decisions. If the special needs child isn't capable of that independence, even as a parent, the parents still need to apply to become a guardian after he or she turns 18 to continue to manage their care.
You should encourage your clients to begin the guardianship process very early as it can take significant time to finalize guardianship.
Resources and Training
Becoming a trusted advisor to a special needs family should not be taken lightly. Not only does it require genuine empathy, it requires educating yourself and collaborating with other highly qualified insurance, legal and estate planning experts who also specialize in working with special needs families.
The American College of Financial Services has an advisor designation called the Chartered Special Needs Consultant®. The ChSNC® designation provides advisors with the technical, collaborative and quantitative skills to help special needs families with their specific and unique needs.
Protected Tomorrows is another excellent resource that was developed by a former financial advisor. It has a membership program, events, training and other resources for both advisors and investor clients.
The ABLE National Resource Center at ablenrc.org, specialneedsplanning.com and friendshipcircle.org are additional informative and helpful resources for advisors and clients.
The Bottom Line
Families with special needs children are faced with the daily challenge of getting the best possible care for their children, while often overwhelmed as to how to plan for the future given the astronomical costs of care.
While you may not be walking in their shoes, with compassion and the technical knowledge you can offer, you have the opportunity to guide them through their confusion and help them to make sound decisions about their finances and the future.
You will also be part of the proverbial village helping to raise their child, who is indeed very special.