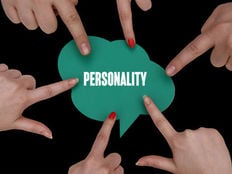 Have you ever wondered why you naturally "click" with some of your clients and other client relationships you really have to work at?
The answer just might be in your personality DNA. Your natural personality type can play a huge factor in your client and prospect relationships. As a matter of fact, conflict and tension typically occurs between opposite personality types.
Personality Assessments
There are numerous personality assessments out there in the marketplace. Some of the more popular ones you may have heard of used in the financial services field are Myers–Briggs and DiSC. While all personality tests surely have their flaws, these assessments can provide valuable insight into both your natural and adaptive behaviors and communication preferences.
Many personality assessments center around four personality types and are based on a quadrant theory of personality. They mostly speak in generalities and there are no right or wrong personality types. Some people are a blend of several personality types. In many cases, though, these assessments can really peg you, almost to a tee.
---
Content continues below advertisement
Your Dominant Personality Type
Do you know what your dominant personality type is? Do you know how others might perceive you and how to best approach personalities you naturally have conflict with, especially if you have clients who are your opposite personality type?
Whether or not you know your core personality type already, here's a fast way to assess your core personality, as well as an overview of the strengths and challenges to be aware of.
Answer the following two questions and don't overthink your responses!
When you are faced with making a decision, are you typically more impulsive and spontaneous or do you tend to be more methodical and logical?
When making that same decision, are you more focused on the task at hand or are you more focused on the people and the relationships involved?
Driver
If you answered more impulsive and spontaneous, as well as more focused on the task at hand, you are a Driver.
Drivers tend to be results oriented, confident and always have a laser focus on the bottom line. These are obvious strengths.
Your challenges, on the other hand, are that you tend to be impatient and are perceived as abrasive and blunt. You may also bulldoze others when it comes to accomplishing the task you are focused on and you typically do not like to focus on the details.
The opposite personality type of the Driver is the Cooperator, which means you may potentially have high conflict potential with them. While your tendency is to be direct, if you have clients who are Cooperators, be sure to maintain a softer and steadier approach. Demonstrate concern and that you are genuinely listening to them.
Influencer
If you answered more impulsive and spontaneous, as well as more focused on the people involved, you are an Influencer.
Influencers' strengths include being persuasive, charismatic, trusting and optimistic. Your challenges, however, are that you may be impulsive, lack follow-through and be perceived as disorganized.
The opposite personality type of the Influencer is the Scrutinizer, so there is a greater potential for conflict with them. If you have Scrutinizer clients, keep in mind that the best way to communicate with them is to tone down your enthusiasm and to be logical in your approach. Demonstrate that you understand details are of utmost importance, don't skip any steps and provide them with third-party validation.
Scrutinizer
If you answered more methodical and logical, as well as more focused on the task at hand, you are a Scrutinizer.
Scrutinizers are accurate, analytical and take great pride in the quality of their work. Your challenges are being perceived as rigid, paralysis by analysis, being overcritical and taking a long time to make decisions, as you fear you may make the wrong decision.
The opposite personality type of the Scrutinizer is the Influencer. If you have Influencer clients, you should always remain positive and upbeat in your communication approach. As much as you'd like to provide them with specifics, withhold details and paint them a broad brushstroke.
Cooperator
If you answered more methodical and logical, as well as more focused on the people involved, you are a Cooperator.
The strengths of a Cooperator are that they are dependable, patient, consistent and collaborative. On the other hand, your challenges are that you may fear change and have difficulty multi-tasking. You may also fear confronting others and therefore avoid conflict.
The opposite personality type of a Cooperator is the Driver, so there is a high chance of conflict. If you have Driver clients, you will need to get out of your comfort zone a bit and be as direct as possible with them. Be sure to put them in the driver's seat.
Bottom Line
Think about it – if we lived in a world filled with just one personality type, life would be pretty boring.
Once you have identified your core personality, it will become easier for you to identify the personality types of your clients and prospects and for you to adapt to and embrace your differences.
The more self-aware you are of how others perceive you, the better. You will also become more equipped to handle those client relationships that require more work than others. The better you are at adjusting your approach, the greater the likelihood of turning those potential personality conflicts into strong personality connections.