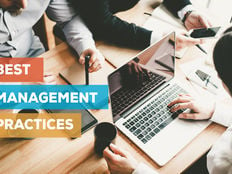 Change the Channel – Set the Tone!
Behavioral finance helps us to understand how human emotions can derail the rational investment decisions needed to achieve longer term goals. The financial markets and information related to financial markets, politics, and the economy is chaotic, confusing and difficult for Individuals, families and even institutions to navigate. Utilizing a Financial Advisor may help if that advisor represents steady hand and voice of reason. An Advisor can be the bridge that spans the gap between where an investor is and where they want to go.
---
Content continues below advertisement
Loss Aversion
Viewing individual investors from a behavioral perspective it's crucial to consider prospect theory or more specifically loss aversion. The theory states that investors feel pain of loss twice as much as euphoria of gain. That emotional responses can lead to emotional errors for investors that focus on shorter time frames. Summarizing the chart below, over longer time periods the upward bias to the financial markets provide a higher probability of a positive return (yearly) while shorter time frames those probabilities of gain or loss are almost equal. Additionally, the "how it feels" column measures the impact that might have on investors as they consider returns on a short term versus a longer-term basis. In this chart there is a similar probability, between a gain or loss on a given day and that impact on the individual investor is significant.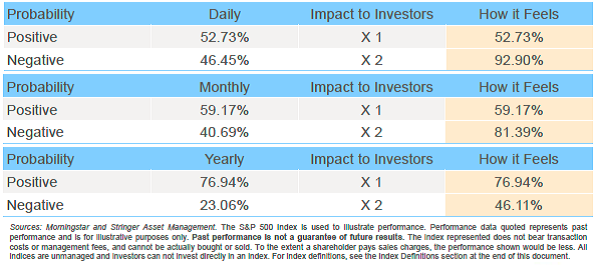 The Waiting Experience
I recently walked into a Financial Advisor's waiting room on a particularly volatile market day and sat with a couple who were waiting for their Advisor. There was a TV in the waiting room tuned into some business news channel. Considering that there is a roughly equal chance that the business news and markets will be showing positive results on that day versus negative, a given client may feel good or bad about it and should that be a negative day feel the negative market nearly twice as much. On this particular day, they were showing a chaotic live feed from the floor of the exchange.
Click here to read the full story on ETF Trends.