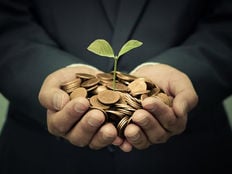 Whether or not you are on board, socially responsible investing is most certainly on the rise.
Your clients' values and financial interests no longer have to be mutually exclusive. Their core values, beliefs and principles can now generate returns as well.
Socially responsible investing or SRI has taken on many names, including impact investing, sustainable investing, ethical investing and values-based investing. It is also referred to as ESG (environmental, social and governance). No matter what you call it, it is no longer just a niche and is becoming a widely followed practice.
Check out here to know more on why socially responsible investing has been on the rise.
The Numbers
By early 2016, socially responsible assets under management reached $8.72 trillion in the U.S. This is equivalent to 20% of total assets under professional management, and to $23 trillion globally.
According to Allianz, 87% of Millennials and 83% of women want socially responsible investments in their portfolios, yet only 6% of financial advisors are engaged in SRI with their clients.
What's more, Bank of America Merrill Lynch estimates over the next two to three decades, Millennials could put $15 to $20 trillion of cash flows into socially responsible investments. This could potentially double the size of the U.S. equity market.
Simply put, now is the time to think about differentiating your practice, if you are not already on board with offering your clients a way to reflect their personal values in their portfolio.
---
Content continues below advertisement
Translate Their Passions
Socially responsible investing is a way to help translate your clients' passions to wealth management. It gives them a way to reflect their values with how they invest their money.
You can tailor a portfolio to meet your clients' specific values while accounting for risk profiles and time horizons, all while choosing from almost every investment category and asset class.
While socially responsible funds were once under scrutiny for having relatively high fees, they have become less criticized and now boast more competitive fees. Out of the 313 mutual funds Morningstar classifies as socially responsible, nearly half had lower expense ratios than their category's average.
Want to know about the ETFs that follow a specific ESG theme? Check out our ESG investing section here to explore these ETFs.
How Well Do You Know Your Clients?
Eighty-four percent of financial advisors indicate they have a strong understanding of their clients' social values and environmental passions. Yet, research indicates a third of investors disagree with this.
Are your clients' religious, ethical and moral beliefs of the highest importance to them? Is the environment important to them? Do they have faith-based concerns? Are animal rights important? What about corporate governance?
Ask yourself these questions honestly. Do you really know your clients views on these important issues? Does their portfolio match these views? Imagine if you could be the trusted advisor to help your clients reflect their values in their portfolio in a responsible way.
More and more investors feel strongly that they want to align their assets with their personal philanthropies and areas of activism. They want to make an impact on current society, as well as on future generations to come. This is another extension of philanthropy your clients can participate in rather than just donating their time and money.
How can you help your clients invest to match their values? Are all of your clients even aware that they can do this?
Consider providing your clients with a questionnaire of issues to help them articulate, as well as clarify their preferences on these issues. This will give you a feel for what matters most to them and how intensely they care about these issues. You just may be amazed by how much you learn about your clients, as well as how this might significantly deepen your relationships with them.
The Opportunity
Research shows that 74% of investors desire more information about socially responsible investing.
Almost two-thirds of investors indicate they are either interested in socially responsible investing or want to invest more in socially responsible investments. However, less than 25% indicate their financial advisor has spoken to them about socially responsible investments.
This truly represents a huge opportunity for you and your business.
Remember, it's far more expensive to prospect new clients. Why not show the far-reaching range of the value you bring to your current clients by helping them to mirror their core values, beliefs and principles in their overall portfolio?
This is a powerful ingredient of customized service that will differentiate you with your clients.
The Bottom Line
Consider helping your clients do well while doing good by reflecting their personal values and beliefs that matter most to them as closely as possible with their investment portfolio.
You can help them find solid returns while impacting today's society, as well as the future. This is truly a win-win.