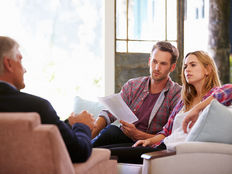 Have you ever wondered what financial topics your clients and prospects are Googling?
Investors are undeniably looking for answers to financial questions. And what's more is their questions are likely rooted in concern, worry and fear.
Financial Concerns
According to Liberty Bank for Savings, among the top most Googled financial questions by Americans are "How do student loans work?" and "What is a 401(k)?"1
What conclusions can we draw from these Google searches for answers? Planning for college and planning for retirement are top financial concerns for most clients.
Matter of fact, research from Gallup shows American parents worry about paying for their children's college education more than any other financial concern. Seventy-three percent of parents with children under the age of 18 worry about having enough money to pay for college.2
The same Gallup study shows that retirement is another overall financial worry with 68% of parents worrying they will not have enough money for retirement.
---
Content continues below advertisement
Calming Fears
Worry and fear can cause unnecessary and unhealthy levels of stress among your clients. It can also interfere with good financial decision-making and can make your role as their advisor more difficult if not addressed.
So how do you address this issue and calm your clients' and prospects' worries and fears?
Of course, the best solution to calm their concerns is to have a solid financial plan in place to fund college and retirement. Unfortunately, many parents make the mistake of prioritizing funding their children's college over their own retirement. This is a huge misstep.
While they think they are doing the right thing by putting their children first, what they don't realize is taking out student loans to fund college is a viable option if they don't have enough saved. They cannot do the same for retirement as there is so such thing as a retirement loan. Retirement planning and "paying yourself first" should always come first.
What is most important, however, to calming your clients' worries and fears on these topics is getting at the underlying emotional fear your clients may have.
Acknowledging Fear and Worry
First and foremost, you can calm your clients' fears by simply acknowledging the fear they have, as well as the underlying emotions that are associated with it. Never dismiss their fears. Explain to them not to ignore their emotions behind their concerns. Their emotions are real.
Not only is money an emotional topic for most people to begin with, but when money specifically has to do with clients' children and their future, it becomes exceedingly more emotional.
Help your clients to normalize their feelings and emotions by talking with them about how they feel. Demonstrate empathetic listening.
An excellent way to help them acknowledge their fears, is by walking them through an exercise of expanding the "what if." Instead of fixating on the fear they are having, ask them to expand the "what if" questions associated with the specific fear or concern. This will turn their fear into a productive exercise.
The secret of this exercise is to take the "what if" questions all the way until the client comes up with a way to deal with the feared outcome rather than being paralyzed by it. This helps clients to articulate the "worst case scenario" and what they will do if it happens. It also helps them come to the realization that the worst case will likely never happen, but if it does they know how they will deal with it.
Talking about their financial fears out loud helps them to overcome those concerns and builds trust with you. You should also remind them that because you are their trusted advisor, you have a financial plan in place as a stronghold to help prevent those worst-case scenario fears.
Create a Safe Environment
Keep in mind clients and prospects may naturally feel worried when they come to your office, knowing that financial topics that cause them concern will be discussed. When your clients and prospects enter your office, make it a safe and warm place for them to express their concerns and fears.
Create a safe environment that feels both inviting and comfortable. Do you have couches and coffee tables in your meeting rooms or do you have standard office board-room tables and chairs? You may want to consider setting up one of your meeting rooms to feel more like a living room to create a relaxed environment.
Bottom Line