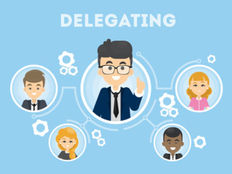 Do you feel like you waste time every day doing tasks that you know you simply should not focus on?
Mastering the art of delegation is the key to spending your time most efficiently on the most effective tasks every day in your advisory practice. In other words, strong delegation equals more time focused on client-facing activities.
Effective delegation provides your staff members with opportunity for growth and the ability to become more skilled and challenged. Ultimately, it might also give them a greater sense of fulfillment and contribution to the overall team.
If you can accomplish this while spending your time on the most productive activities every day, then it certainly is a win-win! However, it might be easier said than done.
The Struggle Is Real
Many financial advisors admittedly struggle with effective delegation. Why? For some, it is a control issue. It is hard to give up control of certain tasks for fear of things not being done the way they want them to be done.
However, think about this. Delegation does not mean that you do not have control over the outcome. Clearly communicate your expectations to your staff and stay involved in the process by setting up periodic check-ins. Having stated that, you must demonstrate that you trust your staff members to do the job. If you struggle with confidence that your staff can handle crucial tasks, start assigning new projects in small increments and work up to larger, more critical jobs.
Another valid struggle that advisors face when it comes to effective delegation is the planning and time it takes to train your staff to do the tasks you want to take off your plate. While you will need to allocate time to plan and train your staff, the payoff will be well worth it. Try to get out of the mindset that it is just easier to do it yourself. The initial time spent upfront training will provide you with more time in the future to focus on what you do best.
---
Content continues below advertisement
Key Tips to Delegating
When it comes to delegation, preparation is essential. Be as specific as possible and clarify that they understand what is being assigned to them. Define the task clearly and identify your desired goal. Being vague will never provide your desired results. Remember that the ultimate objective is to maximize your productivity, as well as theirs.
To confirm their understanding of the task, ask specific questions to be sure that they can explain the job to you in their own words. At this point, also gain commitment from them. Be sure the goals they identify when explaining the task to you are in lockstep with your desired goals.
Be certain that the staff member you choose is qualified. This is important. Trust your instincts on this. Is he or she the right person to execute the job? What is their personality type? How will you keep them motivated? Taking the time to truly understand what your staff members do best will keep them engaged and help you in assigning tasks that they will most likely succeed with.
Regular Check-Ins
As previously mentioned, a process that includes regular check-ins is extremely important, especially at the onset of transitioning the delegated tasks. Decide how often you want the accountability check-ins to occur. Consider assigning a certain time once or twice a day initially for questions to avoid constant interruptions. After the initial transition, you might be able to move these checkpoints to every few days or once a week.
During these check-ins, if your staff member is encountering hurdles, coach them through the challenge. As long as he or she has the resources and capability to carry out the job, coaching them through the hurdle will arm them for the next challenge ahead.
Keep in mind that communication is also vital during your check-ins. Ensure that they are communicating with you about the status of the project to avoid any surprises if there is a firm deadline. Be sure to communicate with them about anything that comes up that might affect the project. Also provide them with feedback along the way.
When providing feedback, highlight their successes. Foster a true relationship of mutual respect. If improvement is needed, clearly communicate this and provide constructive feedback. Avoid assigning blame at all costs and don't ever take the task back. Instead, consider brainstorming together on solutions if improvement is needed. By collaborating on solutions, it allows him or her to continue to feel ownership of the project.
The Bottom Line
The more frequently you delegate, the better you will get at it and the more your staff members' skills will improve. As an added bonus, they might also have a better way of executing the tasks they are assigned. Delegating just might open your mind up to new ways of doing things!
While mastering delegation might take a significant investment of time upfront, the time it will free up in the long run to focus on your most productive tasks is worth the initial time investment. You will have more time to engage with clients and perhaps even more personal time to recharge and invest in your overall well-being.