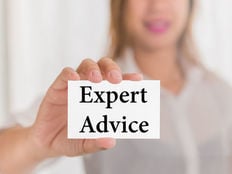 The statistics tell us a tale. According to the U.S. Census, 39.9 percent of women ages 65 and older are widowed, compared to just 12.7 percent of men in the same age group. What is more, up to 70 percent switch financial advisors after their spouse passes away.
Why? Because as "old-fashioned" as it may sound, the husband typically takes the lead in the relationship with the couple's financial advisor. Since she didn't have a relationship with you, she leaves you to work with another advisor she trusts.
Do you have a relationship with both spouses in your married client relationships? It's of utmost importance that you build your relationship with her now so you don't risk losing her as a client once her husband dies. If her husband does pass away, however, be ready to continue to nurture your relationship with her and reinforce trust by demonstrating you truly care.
Suddenly Her Life Completely Changes
No one is ever prepared to lose a spouse. It creates deep emotional turmoil.
In the blink of an eye, her life completely changes and suddenly her former responsibilities have doubled. Her life can rapidly become tremendously overwhelming.
As important as it may seem to begin with the financial matters, your first focus with her should be demonstrating you care and giving her the proper time to grieve. The grieving process is long and it is unpredictable. No two people experience grief in the same way, so avoid making any assumptions.
Grief can also cause cognitive disconnect and the brain to function differently. She may get easily confused have a hard time thinking clearly.
The single best thing you can do for her is to listen and show compassion. Use empathetic listening. Ask her how she is feeling. By asking her how she is feeling you are showing your concern for her and that she is not alone.
---
Content continues below advertisement
Be Careful With Your Word Choice
Despite the fact that you may not know the exact words to say to her, grief experts say in general to avoid clichés and statements that are not helpful, as your words may be misconstrued, upsetting or even hurtful. Stay away from statements like: "He is in a better place." "Time heals all wounds." "He's no longer suffering." "There is a reason for everything." Instead, say something like, "While I can't imagine how you are feeling, I am here to listen."
Avoid saying things like, "Please call me if you need anything." Try being more specific and identify something you will do for her. For example, "I will call you on Friday and we can arrange a time to have coffee together to discuss your questions." Or "I would like to bring a meal to your house tomorrow afternoon, would that be OK?"
Going along with being mindful of your word choice, when you do meet with her about her financial matters, be sure to avoid industry jargon, elaborate charts and spreadsheets that may confuse her. Consider using stories and analogies to explain complex ideas. Telling stories and using analogies engages the brain more than just presenting facts and data, so she will be more likely to remember and retain what you have discussed.
A new widow likely will want you to answer her questions and listen to your advice. Keep her updated with bullets that are easy to digest and provide her with summaries of your discussions after your meetings that include a very straightforward rationale. You can write her a note or email her the summaries, as well as the next steps. Also include the date and time of your next meeting. In addition, you may want to personally call her the day before your next meeting to remind her.
A final thought about your words. Don't be afraid to use her late husband's name in meetings and when talking to her. Use his name. She wants you to. Even talk about your favorite memories of him. She wants nothing more than to keep his memory alive.
Build Her Confidence
In your meetings with her, focus on building her confidence. Many widows are worried they will be taken advantage of. Determine her financial knowledge level and educate her according to her desired preference. Be careful not to sound condescending and be sure she feels like an equal partner in your meetings and throughout the process.
Meet in a place she feels safe and comfortable, which may not be your office. It could be her home or a coffee shop. Ask her where she prefers to meet with you and be as flexible as possible.
Consider having shorter, more frequent meetings with her to avoid overload. Most importantly, don't rush her to make any immediate decisions. Ask her to identify anyone else she may want involved in your meetings and the decision-making process. She may have an adult child, adult grandchild, sibling or trusted friend she would like to include to help her.
Outside Assistance
It is highly likely that she can benefit from your professional network of experts. If she currently isn't using other professional services you offer or your network of outside professional partners, offer to help her in organizing meetings with the other professionals she works with. Propose attending these meeting with her. This reinforces you are acting as her trusted advisor and only have her best interests in mind.
In addition, depending on her personal and family support network, she may need assistance from a grief counselor, psychologist or grief support group.
Consider helping her in coordinating these resources that have a focus on working with widows in transition. She may also appreciate books, articles and online grief recovery websites such as sisterhoodofwidows.com, soaringspirits.com or griefnet.org. Keep a close eye on her progress and continue to address any new needs that may come up in her future.
Bottom Line
With the growing number of widows, ensure you have a solid relationship with both spouses in your married client relationships. Don't risk losing her upon the unfortunate event of her husband's passing.
Build her trust and continue to demonstrate that you care. Help her to move forward and make her feel confident. Show her you are willing to listen and remind her that she is not alone. If you do, she will remain extremely loyal to you and will likely become a rich referral source for your business, as she will tell other widows about you.