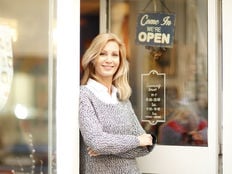 Did you know that research indicates six in 10 small business owners haven't consulted with a financial advisor?
In addition, there are over 28 million small businesses in the U.S. alone.
Herein lies a great opportunity for advisors wanting to work with this desirable and sometimes overlooked sector.
They Really Need You
Small business owners have not consulted you, and they should. They really do need you. Their businesses are so much more than just their occupation – they are ultimately their livelihood.
The same study from The American College, a nonprofit financial services educational institution, shows that three in 10 small business owners haven't estimated how much capital they'll need to have a comfortable retirement, and fewer than one-third of small business owners have a formal financial plan for managing their income and expenses during their retirement years.
As if that isn't enough of an opportunity in and of itself, less than one quarter of small business owners have a formal transition plan for their business when they are ready to retire.
The reality is that their business is significant to their net worth. Not only is it likely the sole source of income, it is also the source of all of their benefits including health insurance and their retirement.
Think about this: If they do not know what their business is actually worth, how on earth can they plan to continue to grow it, protect it now and into the future, as well as eventually transfer it when they retire one day?
---
Content continues below advertisement
They Choose You Through Their Network
So how do you find new small business owners as clients? Cold calling small business owners as with any prospect is simply not worth your time. Small business owners tend to use their own professional and personal network to find an advisor they like and trust.
Research from Securian Financial Group reveals 86 percent of small business owners who currently (or in the past) use a financial advisor chose them through their personal network or through their bank or accountant.
Do you have a strong network of professional partners that you work with already? It is important that you continue to focus on building a solid network of banking professionals, attorneys, insurance professionals and accountants who also specialize in working with small business owners. These professional partnerships are a rich and fertile source of small business owner referrals, so you must nurture these relationships too.
Demonstrate You Understand Their Unique Needs
Overall, small business owners will choose you as their trusted advisor if you demonstrate you understand their unique and complex needs of running a business. This should be a slam dunk since most financial advisors are small business owners themselves.
In general, small business owner clients will need a much higher level of support from you than your traditional clients. Unfortunately, sometimes they are serviced as traditional clients rather than as small business owners.
Don't make the same mistake as other advisors. Many advisors focus on the small business owner's personal assets only and not on the business or the assets of the business. As a result, the advisor loses most of the assets tied to the business when it is eventually sold.
Consider a Specialization
If you are going to be successful in working with business owners, you may also want to consider specializing in a specific industry. By specializing in a specific industry, you will further be able to demonstrate your unique ability to understand your client's' complex needs.
Most business owners tend to be high earners who need financial planning advice as their individual wealth grows. They have needs that range from asset protection to retirement as well as estate planning and succession planning.
It's no surprise that small business owners are busy and don't have a lot of time. (Sounds familiar, doesn't it?) Show how you can help them save time and focus on continuing to grow their business. Share your own tips and best practices that may be applicable from running your own financial advisory business. What can you help them with to free up their plate? What services do you offer? What services do your partners in your network offer?
Areas They Need the Most Help
Securian research shows small business owners are very interested in consulting a financial advisor for cost control (especially due to rising healthcare costs), profitability, cash flow management, succession planning and securing business loans.
In addition to these areas, small business owners need good insurance, including property, life, death and disability. Be sure to review their existing policies to make sure they are adequate.
Small business owners are also looking for someone to help them with the burden of managing of their company's 401(k) plan. In addition, they are typically looking for tax planning help.
The more you have your finger on the pulse of the hot button issues with which they need help, the better. Keep them aware of the risks that many small business owners don't consider because they are too focused on running their business.
Keep in mind, if some of the needs they have are not part of your current service model, be sure you have a trusted network of professionals you can refer them to.
The Bottom Line
Small business owners and entrepreneurs are a remarkable opportunity; however, their needs can be widespread. Demonstrate upfront your expertise of running a business and show what you can do for them as well as how it will help their business.
This market may be more challenging to prospect and service, but their loyalty, ability to refer and pay off will likely be well worth the challenge in the end.