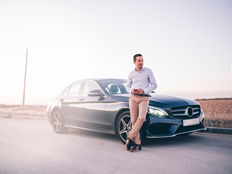 Seeking to understand the habits of your current wealthy clients or looking for new wealthy prospects?
Understanding affluent client traits might be a key to help you both unlock new wealthy client relationships and deepen your current client relationships.
Active on Social Media
Believe it or not the wealthy are active users of social media. Matter of fact, according to Spectrum Group, a whopping 68% of wealthy investors use Facebook, 47% of wealthy investors use Twitter and 46% of wealthy investors use LinkedIn.1
In addition, 58% of wealthy investors would follow their financial advisor on Twitter if they where given the option.
It is important that advisors are accessible through communication methods via social media channels, for example Facebook Messenger. Spectrum Group's research also indicates that the wealthy utilize social media for communication with their financial advisors as well. Nearly 50% of wealthy clients have communicated with their advisor via Facebook Messenger and 36% have communicated with their advisor via direct message on Twitter.1
---
Content continues below advertisement
Avid Readers
Another habit of the wealthy is that they are avid readers. Research from Thomas Corley, author of Rich Habits: The Daily Success Habits of Wealthy Individuals, shows 86% of the wealthy love to read.2
Eighty-eight percent read specifically for self-improvement or self-education for at least a half hour or more everyday.2 Eighty-five percent read two or more books every month on an ongoing basis.3
On the other hand, the wealthy limits their television watching. Corley cites that 67% of the wealthy only watch TV for one hour or less every day.2
What conclusions can we draw from this? The affluent are always seeking for ways to improve and to acquire knowledge from reading. They want to sharpen their minds, their skills and themselves. They don't want to waste their time watching TV.
They are hungry to learn and seek information. They read biographies of successful people, personal development books and books about history.4In other words, they typically read for knowledge, not to be entertained.
What's more, affluent investors want information from you! Seventy-three percent of wealthy investors read financial blogs and seventy-three percent also indicate they would read financial blogs published by financial advisors they know.1
If you are not blogging already, consider starting as another way to connect with wealthy clients and prospects. Also share some of your favorite book recommendations with wealthy clients and prospects as a way to connect with them.
Mindful of Health
The wealthy make their health a priority. Not only do they start their day early, but the majority watch what they eat and exercise regularly.
Corley's research also shows that 57% watch their calories every day. Seventy percent eat less than 300 calories of junk food per day. More than 75% also do some sort of aerobic activity at least four days a week.5
Since health is a priority, consider hosting events for your wealthy clients and prospects that are focused on the themes of both health and wealth. There are numerous creative themes you can use focused on balancing mind, body and wealth. From hosting events at yoga studios to cooking classes focused on nutrition and energy. All of these themes can be tied to a well-balanced life and a well-balanced portfolio of assets.
Goal Focused
Another habit of the wealthy is that they are extremely goal focused. Eighty percent of the wealthy are focused on a clearly define goal with a set plan in place to achieve it.6
They set goals that are specific and attainable not only for their financial future, but for themselves personally. They also actively track and measure the goals they set.
Additionally, the affluent actually commit to writing down their goals on paper. With sixty-seven percent of the wealthy taking the time to write down their goals, they understand that the act of writing down goals is directly correlated with the likelihood of achieving them. 6
So what does this tell us? Wealthy individuals are very disciplined and committed. They are focused on the long-term both in their personal and financial lives.
As their trusted advisor, be sure you thoroughly understand their personal and financial goals.
While their financial goals are your utmost priority, check in with them routinely on their personal goals. Show genuine interest and uncover if there are any ways you can assist them in attaining their personal goals as well.
Bottom Line