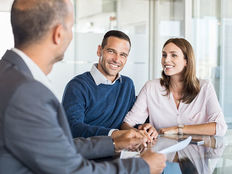 Telling stories is tremendously powerful yet simple.
Storytelling can, hands down, be one of the very best ways to explain, persuade, teach and understand.
Do you use stories to explain your services to clients and prospects? It's no secret the financial services industry is loaded with complex terms, jargon, hard-to-understand concepts, endless numbers, and charts. All of these things can be extremely overwhelming and cause confusion with clients and prospects. This confusion may ultimately trigger them to shut down and deter or delay their doing business with you.
It doesn't have to be this way though. With a little practice, using stories to explain the complex concepts can be an easy, effective and natural way to genuinely connect with both your clients and your prospects.
An Emotional Connection
Countless studies have been done on storytelling and how the brain reacts to hearing a story being told. Simply put, stories are how our brains remember things and they also make an emotional impact. We visualize vivid imagery when a story is told to us and we feel real emotion. Stories engage and connect us.
In other words, when you are telling stories to your clients and prospects, you are making both an emotional and memorable connection with them. This is significant since the financial services industry is so heavy on left-brain oriented numbers and data-based information. Using stories also engages the right side of the brain, which means you are engaging both sides of the brain. This helps you to make that important emotional connection, ultimately deepening your clients' trust in you.
---
Content continues below advertisement
The Art and History of Telling Stories
Good storytelling really is an art, and it has existed since the human race began. Matter of fact, telling stories was an essential part of early life on earth. Long before humans could write, there were storytellers. Some historians suggest that early leaders of mankind were largely selected on their storytelling ability.
Take a moment to think about the various ways we can tell stories. While we may typically think of personal stories and anecdotes as stories, you can also tell stories to your clients and prospects through simply providing an example, creating a comparison, using illustrations, drawings, cartoons, movies, analogies and metaphors.
Where to Start
Begin by thinking about stories you may already be using with your clients and prospects without even knowing it. Once you have jotted these down, this will give you a story catalog to build from.
It is also a good practice to keep an ongoing log of stories when new ideas come to you, as well as stories you hear others tell that you want to incorporate into your own business. Sometimes the best stories are borrowed ones that you can personalize to make your very own.
Be sure to have stories for topics you explain frequently like asset allocation, diversification and the benefits of long-term investing. Also, take the time to think about financial topics, products or services that your clients and prospects always have questions on or seem particularly confused every time you explain them. Consider using stories to help you overcome objections they may have as well.
Think about your clients and prospects. What do they have in common and what interests and hobbies do they have that you could use as examples or analogies? Do they like to travel, go boating, play sports or spend time with family? This will get your mind thinking about what stories and topics will likely work best with your ideal client.
An Illustrative Example
Although it's an older book, The Financial Professional's Storybook co-authored by Scott West, Mitch Anthony and David Saylor is an excellent resource for advisors who want to engage clients by translating Wall Street jargon into Main Street values. It is packed with hundreds of field-tested and extremely useful stories, analogies and metaphors by topic.
An exceptional example from the book highlights how one advisor uses a simple illustration to explain the principles of diversification and asset allocation.
By drawing a picture on a whiteboard or a notepad of two boxes side by side, the advisor explains that each box represents an elevator. On top of one box, there is one line, and on top of the second box, there are four lines. The advisor then explains that the lines on the top of the boxes are elevator cables. Then the advisor asks the client, "If you were in an earthquake, which elevator you would want to be in?"
Keep in mind, your stories don't have to be elaborate. Simplicity can speak volumes like in the above example.
The Bottom Line
Your clients and prospects truly appreciate plain talk. Using stories or "story selling" to explain your services and products to clients goes a long way. Telling stories is psychologically proven to engage and connect with your clients emotionally.
It's true. Everyone loves a good story. Start incorporating more storytelling into your daily business and you'll be amazed both by the results and the deeper connections you'll make.