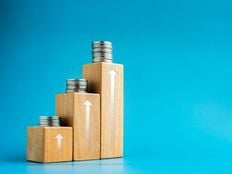 As the bank crisis hots up for the U.S. ETF market, the contagion may now be impacting mortgages. The average rate on the 30-year fixed dropped to 6.57% at the start of this week, and as mortgage rates tend to follow the yield on the 10-year Treasury has also dropped due to the bank crisis, those bank issues may be impacting the real estate sector. That could help explain the outflows for real estate ETFs, the most across all asset classes over the last week, as well as explain the net inflows for volatility ETFs, which added $177.4 million over the last week.
| Asset Class | AUM ($, mm) | Net Flows ($, mm) |
| --- | --- | --- |
| Equity | $5,099,782.46 | $17,197.93 |
| Bond | $1,318,784.25 | $7,830.35 |
| Commodity | $136,633.75 | $203.05 |
| Volatility | $3,036.51 | $177.41 |
| Preferred Stock | $28,794.39 | -$6.63 |
| Currency | $3,836.52 | -$66.82 |
| Alternatives | $5,170.17 | -$111.76 |
| Multi-Asset | $30,019.16 | -$178.81 |
| Real Estate | $66,246.68 | -$280.36 |
Real estate ETFs saw -$280 million in net outflows, with most of the outflows coming from the Vanguard Real Estate ETF (VNQ A) with -$342 million leaving that strategy. Part of that may be attributable to the sheer size of the ETF – it holds $32 billion in AUM, with the next-largest strategy sitting at just $5.5 billion – but the sector overall saw outflows, with smaller strategies also suffering the tough start to the year for real estate overall.
The bank crisis may have contributed to outflows for real estate ETFs, but it may also be contributing to some notable flows for volatility ETFs – the class hit $3 billion in AUM overall behind $177 million in net inflows for the week. The lead volatility ETF that may have been largely responsible for those inflows was the iPath Series B S&P 500 VIX Short-Term Futures ETN (VXX A-) which added $192 million over the week.
Rounding out the asset class inflows, equities showed continued inflow strength with $17.2 billion in net inflows over the last week, while bonds added $7.8 billion, largely into Treasury strategies. In equities, many of the usual suspects like the SPDR S&P 500 ETF Trust (SPY A) led the way in inflows for the week, but there were some interesting standouts with the SPDR S&P Regional Banking ETF (KRE A-) adding $941 million as investors looked to deal with the bank crisis.
In bonds, Treasuries dominated, with the top five bond ETFs all focusing on Treasuries. iShares took four of those five slots, with about $3 billion coming into the top two, the iShares U.S. Treasury Bond ETF (GOVT A-) and the iShares 7-10 Year Treasury Bond ETF (IEF B).
---
Content continues below advertisement