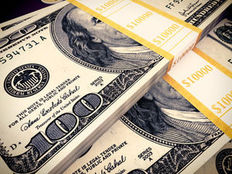 The average savings account in the U.S. offers investors a paltry 0.06% APY, with some as low as 0.01%. With rates near zero, it can certainly be difficult to grow your savings over time. There are some high yield savings accounts that offer rates between 0.90% and 1%, but they are not always the best choice for investors, as some come bundled with large minimum investments, hidden fees, and other headaches.
The idea of a savings account is to stow away your money in a safe account for later use, but in many cases that strangles the ability to grow the account. Luckily, there are alternatives that investors can turn to in order to inject "a bit of life" into their savings account utilizing a select few ETFs.
ETFs for Your Savings
We have selected several ETFs that investors can use as something resembling a high yield savings account to grow their money. These funds are all debt instruments focused on short-term U.S. government and (investment grade) corporate debts, which are among the safest investments out there. They can also all be traded commission-free on a number of platforms and have no minimum investment requirements.
Still, there is certainly a risk to using an ETF as a savings account, as you run the risk of the ETF declining in price, whereas an actual savings account would never succumb to that issue.
See also Bond ETFs In Focus: Defining All The Yield Metrics.
For those who are looking for an alternative way to grow their savings and who do not mind taking on a bit of extra risk, we present eight ETFs that can be used as alternatives for a savings account (data as of 3/10/2015):
---
Content continues below advertisement
| ETF | Assets (Millions) | Commission Free Platforms | 12 Month Yield |
| --- | --- | --- | --- |
| Short-Term Bond ETF (BSV ) | $158,580 | | 1.33% |
| Short-Term Corporate Bond Index Fund (VCSH ) | $9,740 | | 1.67% |
| 1-3 Year Treasury Bond ETF (SHY ) | $7,702 | | 0.37% |
| Short-Term National AMT-Free Muni Bond ETF (SUB ) | $890 | | 0.76% |
| Short-Term U.S. Treasury ETF (SCHO ) | $710 | | 0.46% |
| Short-Term Government Bond Index Fund (VGSH ) | $545 | | 0.39% |
| 0-5 Year TIPS Bond ETF (STIP ) | $490 | | 0.74% |
| BulletShares 2014 Corporate Bond ETF (BSCE ) | $300 | | 0.46% |
Over the long term, the majority of these options have had positive returns, on top of their yields, which would give your savings an extra growth factor. Let's take a look at how an investment of $10,000 would grow each year under some of these options:
The Bottom Line
For some investors, a standard savings account may be the best option, as it is undoubtedly the safest of any of the options on this list. Others may find that a high yield savings account works best for them and are fully aware of any fees and requirements that go along with that. And still others may find these ETFs to be a good alternative for their savings and may even prefer the heightened risk/reward profile. Be sure to do your homework before deciding which of these options works best for you and your objectives.
Follow me on Twitter @JaredCummans.
For more ETF analysis, make sure to sign up for our free ETF newsletter.
Disclosure: No positions at time of writing.