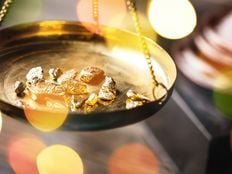 Beyond Basic Beta Channel
With gold on scintillating pace this year, mining equities and the related ETFs are responding in a big way. For example, the VanEck Vectors Gold Miners ETF (GDX B+) is up more than 44% year-to-date, offering better than double the returns of traditional gold funds.
GDX is comprised of global gold miners, with a notable tilt toward Canadian and U.S. mining companies. Stock fundamentals like cost deflation across the mining industry, share valuations below the long-term average and rising M&A are all supportive of the miner's space as well, but those fundamentals could be glossed over if the dollar strengthens. There are indications that the current gold bull market could last awhile.
"Bull markets can be classified as either secular (long term) or cyclical (bull phases within an overall bear market)," said VanEck in a recent note. "Before its $1,400 per ounce breakout in June, gold appeared to be tracking, on a technical basis, similar to its 36-month cyclical bull market from 1993 to 1996. However, its current $1,500 price level hints at a potentially longer, sustained rally—perhaps more similar to the secular gold bull market of 2001 to 2008."
Creating GDX Catalysts
Gold ETFs are pushing to the upside amid increased expectations of a U.S. rate cut, even as some investors locked in profits from bullion's recent rally. Gold is believed by many investors to be inversely correlated with interest rates. Rising interest rates make bonds and other fixed-income investments more attractive so that the money will flow into higher-yielding investments, such as bonds and money market funds, and out of gold, which offers no yield at all during times of higher interest rates, and back into gold ETFs.
The precious metals mining industry has also been on the road to improved efficiency as they cut costs, increase production and raise more money. Supporting the bullish thesis for ETFs such as GDX is that many gold miners are finding ways to boost output while keeping a lid on costs.
"However, the greatest difference between the last bull market cycle (2008 to 2011) and the current cycle is the lengths to which these companies have gone to reduce costs and capital expenditures and to avoid mistakes of the past (such as "hedging" their production—i.e., buying futures contracts to ensure delivery of their gold at a fixed price at a later date in time—in a rising gold price environment)," according to VanEck.
Related: Gold Mining ETF 'GOAU' Surges Ahead of Competitors
Those efforts are bearing fruit for some of the larger and mid-tier miners, such as those featured in GDX.
"For senior or mid-tier miners, these efforts could translate to nearly 60% increases in free cash flow, on average, for a gold price move from $1,400 to $1,600. We believe that this makes a compelling case for gold stocks at the moment and, in particular, given their attractive valuation on both an absolute and relative basis," said VanEck.
This article originally appeared on ETFTrends.com.
---
Content continues below advertisement