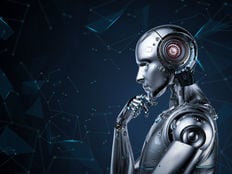 Thematic Investing Channel
The artificial intelligence (AI) revolution is real and investors can tap that rapidly growing theme with exchange traded funds such as the Global X Robotics & Artificial Intelligence Thematic ETF BOTZ (BOTZ).
The $1.61 billion BOTZ is considered a thematic ETF. A thematic approach includes investments that stand to benefit from structural change driven by demographic and technological changes. BOTZ, which debuted in September 2016, targets the Indxx Global Robotics & Artificial Intelligence Thematic Index.
The fund "seeks to invest in companies that potentially stand to benefit from increased adoption and utilization of robotics and artificial intelligence (AI), including those involved with industrial robotics and automation, non-industrial robots, and autonomous vehicles," according to Global X.
The AI exposure provided by BOTZ is important at a time when AI is disrupting and transforming myriad industries.
"The impact of AI will be disruptive to many—if not all—industries," said IHS Markit. "The disruption will reverberate even in sectors not traditionally known to be connected to industry, such as academia and the educational system, since education is a key component of AI. In fact, AI's impact will be felt by our entire society."
Banking on 'BOTZ' ETF
Robotics and artificial intelligence are making machines smarter and more capable than ever before, allowing robots to take on increasingly sophisticated tasks for faster and more accurate production.
Thematic strategies tend to be alpha-seeking, have a long time horizon and are growth oriented. The thematic investments also transcend classic sector, industry and geographic classifications as many overlap.
"The need for data security and privacy is more pressing and urgent today than ever before, given the ready availability of immensely powerful technologies. Statements last year from French President Emmanuel Macron, who is pushing hard for a national AI strategy in France, highlight the importance of having clear and coherent regulations that would let citizens enjoy the benefits of AI without the technology being abused," according to Markit.
Ten industries are represented among the 37 holdings in BOTZ with technology and industrial sectors looming large.
"Most AI applications are currently at this point, characterized in general by four major abilities: perceiving, learning, abstracting, and reasoning," said Markit. "The next milestone will be tough to match. Generic Multi-Modal AI is comparable to human intelligence, applies to all the senses, and works powerfully in parallel."
For more information on the thematic ETFs, visit our Thematic Investing Channel.
---
Content continues below advertisement