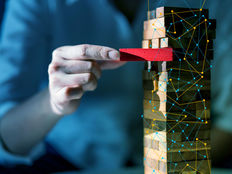 Thematic Investing Channel
Growth beginning to make a comeback and forthcoming volatility in the markets could be handled by using an ETF that addresses both with a collar strategy.
Investors looking to use the tricks of the trade to the fullest can utilize a collar strategy as part of their own risk management measures. Inflation fears have been known to rack the markets as of late, so using a collar strategy could help protect against future market downturns.
"A collar, also known as a hedge wrapper or risk-reversal, is an options strategy implemented to protect against large losses, but it also limits large gains," Investopedia explained.
"An investor who is already long the underlying creates a collar by buying an out-of-the-money put option while simultaneously writing an out-of-the-money call option," Investopedia said further. "The put protects the trader in case the price of the stock drops. Writing the call produces income (which ideally should offset the cost of buying the put) and allows the trader to profit on the stock up to the strike price of the call, but not higher."
Investors don't have to try and implement the collar strategy themselves by having multiple positions open. They can opt for an ETF that does all the heavy lifting for them with the Global X S&P 500 Collar 95-110 ETF (XCLR B).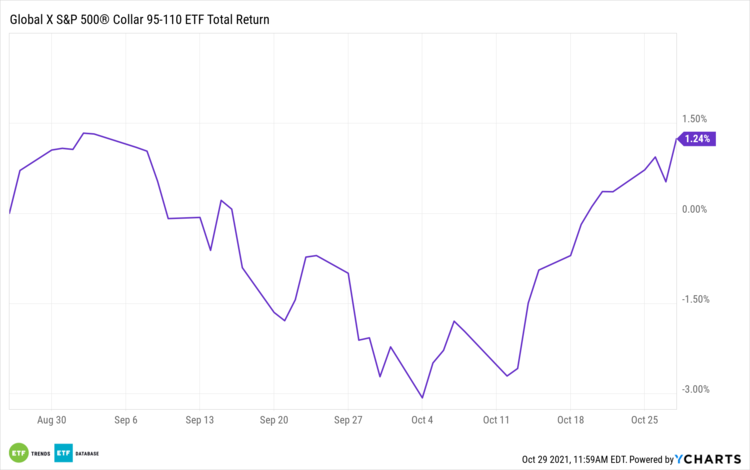 Wrapping up the Collar Strategy in an ETF
As mentioned earlier, XCLR employs a collar strategy for investors seeking range-bound equity returns. XCLR seeks to achieve this outcome by owning the stocks in the S&P 500 Index (SPX), buying 5% out-of-the-money (OTM) put options on SPX, and selling 10% OTM call options on the same index.
XCLR highlights:
Growth potential:

XCLR

enables investors to participate in the growth of the S&P 500, up to approximately 10% from the selling of the call to the options' expiration in three months.
Manage risk: By employing a collar strategy,

XCLR

aims to lessen drawdowns to approximately -5% from the purchase of the put to the options' expiration in three months.
Efficient options execution:

XCLR

buys put options and sells call options on the S&P 500, saving investors the time and potential expense of doing so individually.
For more news, information, and strategy, visit the Thematic Investing Channel.
---
Content continues below advertisement