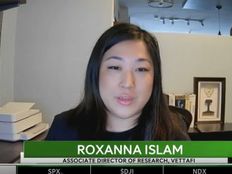 Thematic Investing Channel
VettaFi associate director of research Roxanna Islam appeared on to discuss .
"Forecasts for consumer spending this season seem a little bit mixed, but I think it will be an overall good season specifically for e-commerce spending," Islam said, noting that though consumers have been hit by inflation, surveys have indicated that they plan to spend more or the same as they have in prior seasons. Islam noted that the last couple of holiday seasons have seen lockdowns and challenges, "this is one of the first Christmas holiday seasons we've had in a couple of years."
E-commerce has fallen out of favor of late amid reopenings, but according to Islam, "I think if you really dig into that e-commerce data it is making a comeback." In Q3, e-commerce grew 11% year over year, compared to just 9% in total retail.
Islam sees consumers as ready to spend, even if they do need to be more strategic given the market conditions. Asked what she thought the total holiday spending will be compared to last year, Islam said she thinks it will be the same or potentially higher: "people are determined to make this a good holiday season. They've been restricted for two years, this is the first time people may be with their families in a couple of years."
Consumers who are more price sensitive have changed the way they shop, Islam observed, noting that people are increasingly taking advantage of sales or discounts and stretching the holiday shopping season out by starting their shopping earlier. "Amazon, Walmart, Target for instance all started their discounts in early October versus when they usually start it, which is late October to early November."
Because consumers need to be more strategic, Islam sees that as helping e-commerce over brick and mortar, since it is easier to compare prices and find discounts. "That's really been reflected from the data we saw on Black Friday," Islam noted. Mastercard saw a 12.5% bump in e-commerce sales versus a 10.5% in in-store sales. She continued, "we're also seeing consumers spend more on credit cards." Despite this, delinquencies have not gone up.
For more news, information, and strategy, visit the .