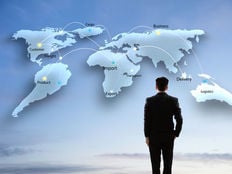 2017 Inside ETFs Conference
The 10th annual Inside ETFs Conference will be held in Hollywood, Florida from January 22 – 25, 2017. More than 160 prominent industry figures will impart their wisdom on the present and future of exchange-traded products. Over 2,000 people are expected to attend the conference, bringing together prominent business leaders, top journalists, analysts, communication strategists and investors.
ETFdb.com will have an in-depth coverage of the conference to keep you updated on all the details. Not only will we be live tweeting the event, we'll also be providing you with our insights and takeaways during – as well as after – the conference.
We will also have Q&A sit-downs during the conference with experts from Vanguard, WisdomTree and Amplify ETFs, to name a few. Read our Q&A Interviews section for a full list of our Q&As with thought leaders within the ETF industry.
For a full list of ETF issuers, take a look at our ETF Issuers page.
Day One, January 22
The first day will start at 12 p.m. and will include a series of learning courses on the basics of ETF investing and trading, the recently emerged active fixed-income ETFs and strategies for volatile markets. PIMCO, Inside ETFs and Charles Schwab Investment Advisory are among the firms conducting the courses.
The day will continue with Advisor Accelerator, which represents a series of speeches on matters such as diversification, customer communications and the future of the investment advice. In another simultaneous stream, attendees will be able to watch presentations on how to launch an ETF. PwC, State Street Global Services, Deutsche Asset Management and Janus are among the companies sending their experts to teach attendees how to put an ETF on the market.
Our Practice Management content for financial advisors and planners broadly focuses on a range of practice management issues and metrics, identifies potential gaps in advisory businesses and isolates trends that may impact how advisors do business in the future.
---
Content continues below advertisement
Day Two, January 23
The second day will contain a main session and four tracks taking place simultaneously. Tracks are seminars/workshops tailored for a type of investor (eg. advisor, institutional or individual investor), an ETF theme (such as fixed income ETFs or smart beta) or the overall ETF industry (eg. ETF trends, ETF regulation, etc.).
The main session will start with a panel named "Women in ETFs" and, as its name suggests, will have four women representing MSCI, State Street, Citi and Investure. The so-called Advisor Tank will follow with four guests, including Kevin O'Leary from O'Shares Investments and Arne Noack, the director of ETP development at Deutsche Asset Management.
After Vanguard's Tom Rampulla's speech on the future of Active ETFs, a six-person panel will talk about investment opportunities in 2017. CNBC's Bob Pisani, Richard Bernstein from the eponymous advisory outfit, and Morningstar's Daniel Needham are among the participants.
The afternoon will start with a panel on investment analysis: "Smart Beta & the Market Cycle: Factor Strategies for the Year Ahead." Yasmin Dahya, an ETF executive at J.P. Morgan Asset Management, Raman Aylur Subramanian from MSCI and Dave Gedeon, global head of index research at Nasdaq, are expected to speak. The day will end with a panel delving into the future of ETFs and a keynote speech by CNBC's Larry Kudlow on investment options in the Trump era.
The tracks for today will explore fixed income ETFs, the Brexit and potential trade wars, emerging markets investing, infrastructure and real estate, among other topics.
Day Three, January 24
The morning of the third day will consist of a workshop on the future of ETF regulation and a presentation on ETF flows delivered by EPFR Global's Director of Research, Cameron Brandt. Kevin O'Leary will then talk about ways to build long-term income portfolios followed by a panel delving into fixed income ETFs with executives from BlackRock, ProShares and Nuveen. In addition, Bob Doll of Nuveen Asset Management is expected to share his ten best ideas for 2017 in a slow-growth economic environment.
The tracks today will focus on dividend strategies, ways to capture alpha, the future of fixed income, sector ETF strategies and disruption in the investment world.
The first half of the day will end with an interesting panel on smart beta and whether it is the right solution for investors. Sharon French, head of Beta Solutions at OppenheimerFunds, Kal Ghayur, managing director and head of ActiveBeta at Goldman Sachs Asset Management and Rob Nestor, head of iShares Strategic Product Segments at BlackRock, are among the participants. The second part of the day will be more relaxed and consist primarily of speeches on risk judgment, the ETF revolution, and a panel discussion about the best new ETFs of 2016. The third day will conclude with a motivational speech by professional baseball player Alex Rodriguez.
Day Four, January 25
The fourth and last act of the conference will start with a speech on ways to improve investment outcomes with the help of ETF strategies. The presentation will be made by two executives at StratiFi. After a lecture on the "new era of tactical investing" by Dorsey, Wright & Associates founder Tom Dorsey, attendees will get their last panel discussion focusing on income strategies in a low-yield world. The conference will end with a presentation on active ETFs and the future of portfolio management.
For the entire Inside ETFs agenda, click here.
The Bottom Line
The conference organized by Inside ETFs will span four days and touch on topics concerning a wide variety of industry participants. Thought leaders are expected to share their ideas about the present and future of the ETF sector and the overall investment space.
For more ETF news and analysis, subscribe to our free newsletter.