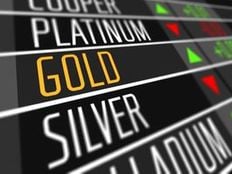 Commodity exchange-traded funds (ETFs) are gaining prominence this year as investors seek exposure to precious metals, agriculture and hydrocarbons. Investors looking to diversify into primary markets should carefully consider this asset class for future growth.
As the name implies, a commodity ETF is a fund that invests in physical commodities like natural resources, agriculture and metals. A fund can either be focused on a single commodity, i.e. gold, or in futures contracts. Some commodity ETFs track the performance of a commodity index that includes dozens of individual assets obtained by way of physical ownership or derivatives positions.
Demand for commodity ETFs is growing as risk-off investors rotate into funds backed by gold and other precious metals. As the world's oldest safe haven, gold provides protection against rising interest rates and broader market downturns. As equity markets continue to face volatility, commodities and the funds that track them are likely to see bigger uptake by investors and fund managers.
To learn more about ETF Investing Strategies, click here.
Gaining Exposure
In general, there are four ways an investor can gain exposure to commodity ETFs:
Physically-backed

ETF

Equity fund
Futures-based fund
Exchange-traded note
As one would expect, each of these vehicles has opportunities and drawbacks.
A fund that is physically backed by commodities gives investors actual ownership of the underlying asset. For example, investors who buy shares of the SPDR Gold Trust (GLD A-) or iShares Comex Gold Trust (IAU A-) receives an ownership stake in the fund's gold inventory. This means actual ounces of gold are allocated to your name.
Investors can also access the commodity market by owning a stake in companies that produce, transport or store them. By owning shares of a commodity-producing company, you can reap some of the benefits of asset class. Funds such as VanEck Vectors Gold Miners (GDX B+) provide exposure to a batch of global companies involved in the production of bullion.
Another way to gain exposure to commodities is through a futures-backed fund. These funds target futures contracts, swaps and other derivatives products rather than the underlying spot price. An example of this type of fund is the Invesco DB Commodity Index Tracking Fund (DBC A).
Finally, exchange-traded notes (ETNs) offer exposure to commodities through unsecured debt issued by a financial institution. ETNs provide exposure to this asset class through indexes that are comprised of commodity futures contracts. As debt securities, commodity ETNs can be bought and sold on exchanges with a return that is tied to the performance of the underlying index. These assets are intended to produce "no tracking error" between the asset and the index it is tracking. An example is the iPath Dow Jones-UBS Commodity ETN (DJP A-).
Use our ETF Screener tool to find the right commodity ETFs for your portfolio.
---
Content continues below advertisement
| Ticker | Name | No. of Shares (Mn) | AUM in Millions (As of Oct. 15, 2018) |
| --- | --- | --- | --- |
| (GLD ) | SPDR Gold Trust | 253 | $29,198.20 |
| (IAU ) | iShares Comex Gold Trust | 901 | $10,532.10 |
| (GDX ) | VanEck Vectors Gold Miners | 455.6 | $8,999.70 |
| (DBC ) | Invesco DB Commodity Index Tracking Fund | 147.8 | $2,641.50 |
| (DJP ) | iPath Dow Jones-UBS Commodity ETN | 37.9 | $914.60 |
Advantages and Disadvantages of Commodity ETFs
Like with any asset class, commodity-based ETFs have advantages and disadvantages. Whether or not the pros outweigh the cons depends largely on your underlying objective, risk tolerance and time invested in the market.
Physically-backed commodity ETF are advantageous because they provide direct exposure to the underlying asset. Here, you are directly owning a piece of the commodity, which means the ETF's price mirrors the underlying price of the asset. The downside of this strategy is that it won't give you access to the entire commodity market as only one or a few commodities are covered.
Equity-based commodity funds provide indirect exposure to the commodities market by investing in companies that produce or store those commodities. There are two aspects to this form of commodity investment. An investor benefits from large upturns in commodity prices without the added risk of regulatory limits. The downside here is that you are not directly invested in actual commodities but in companies that produce them. This isn't the same as owning a gold bar or investing in a futures contract that tracks the price of crude oil.
Futures-backed funds and ETNs offer easy exposure to commodities without having to own the underlying asset. This method is particularly advantageous for speculators and investors who have no interest in a long-term position. Of course, the downside to these assets include tracking discrepancies, regulatory risks and possibly even credit risk.
Analyze the performance of the Commodity ETFs Category using our proprietary Power Rankings.
The Bottom Line
Exposure to commodities is considered essential for any well-balanced portfolio. ETFs provide investors with several options for integrating precious metals, agriculture and natural resources into their portfolio.
Be sure to check out our News section to keep track of the latest news on ETFs.