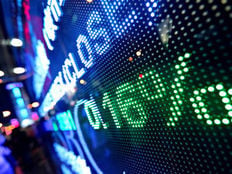 With over 1,600 products and counting, the ETF universe has certainly come a long way since SPY made its debut as the first exchange-traded fund in 1993. And as the industry continues to democratize the investment landscape, exchange-traded products are becoming more widely used by all types of investors, from individuals with relatively small accounts to sophisticated hedge funds managing billions of dollars.
Considering the sheer magnitude of the ETF space, picturing the size and scope of the industry may seem like a daunting task. Here we take a visual approach to slicing and dicing the ETF universe. Please note that all data is as of 2/26/2015.
ETFs by Asset Class
Even a quick glance at the ETF product lineup shows the dominance of equity-based funds. Together, they account for over 80% of the ETF industry's total assets and more than two-thirds of the total product count.
---
Content continues below advertisement
The prolific S&P 500 ETF (SPY A) is by far the largest equity ETP, as well as the largest fund in the ETF universe. To put things in perspective, SPY's total assets under management account for over one-tenth of all equity-based funds' assets combined.
Exchange-Traded Product Structures
While many use the term "ETF" rather liberally to refer to a variety of different exchange-traded products, ETFs themselves do in fact account for the vast majority of ETPs. ETNs however, which are debt instruments, have steadily gained ground over the years, such as the ultra popular Alerian MLP Index ETN (AMJ B).
Some investors may be surprised to find that the two largest exchange-traded products aren't ETFs at all; SPY is a Unit Investment Trust, and GLD is a Grantor Trust.
Active vs. Passive Management
Roughly 95% of all exchange-traded products are "passive," meaning they are designed to replicate the benchmark of an index. Actively-managed ETFs have gathered momentum over the years; there are now about 114 active exchange-traded products, which, combined, manage over $16 billion in assets. Be sure to check out our Actively-Managed ETF Portfolio.
Below is a table of the five most popular actively-managed funds:
| Ticker | ETF |
| --- | --- |
| (MINT ) | Enhanced Short Maturity Strategy Fund |
| (BOND ) | Total Return Exchange-Traded Fund |
| (EMLP ) | North American Energy Infrastructure Fund |
| (FTSM ) | Enhanced Short Maturity ETF |
| (SRLN ) | SPDR Blackstone GSO Senior Loan ETF |
Leveraged and Inverse ETPs
In total, there are about 250 leveraged and/or inverse exchange-traded funds, which, combined, manage over $31 billion in assets. One of the largest funds is ProShares' UltraShort Barclays 20+ Year Treasury Fund (TBT A), a popular and powerful tool for active traders.
Of all the combinations of leveraged and inverse exposure, the vast majority are 2x and -1×. Products that offer 3 times the exposure of a given index, however, account for nearly a third of all leveraged and/or inverse ETPs.
The Bottom Line
The ETF industry has provided investors access to nearly every corner of the market. The charts above show just how diverse the ETF universe truly is. For more information, we encourage you to use our suite of free tools at ETFdb.com, including the ETFdb Categories, ETF Screener the ETF Analyzer for all your ETF research needs.