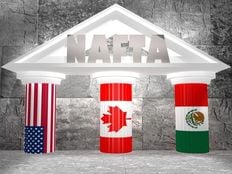 The North American Free Trade Agreement (NAFTA) has had a profound impact on the economies of the United States, Canada and Mexico. For all the intense debate it inspires, the 23-year-old pact has boosted trilateral trade and created a far more integrated North American economy. However, as we'll soon see, the debate over NAFTA's benefits and discontents reflects a long-standing controversy over globalization and its impact on jobs, wages and economic prosperity.
NAFTA's Economic Footprint
More than two decades after its implementation, NAFTA continues to generate enormous controversy over its impact on economic growth and jobs, particularly in the United States. The trade pact, which came into force on January 1, 1994, gradually eliminated tariffs over a 15-year period. In the process, NAFTA quadrupled regional trade from $330 billion in 1993 to a whopping $1.2 trillion in 2016. The agreement is said to have supported nearly 14 million U.S. jobs, including 5 million direct jobs.
Cross-border investment also increased as a result of NAFTA, with U.S. foreign direct investment (FDI) in Mexico increasing to $100 billion from just $15 billion. All three signatories have experienced real GDP growth over the course of their free-trade history. Although the United States has complained about a large trade deficit with Canada and Mexico, both countries account for roughly one-third of U.S. manufacturing exports. This not only supports jobs back home, but also leads to increased earnings for U.S. businesses. This in turn spurs higher consumption and investment, which theoretically lead back to job creation.
Despite NAFTA's enormous impact, U.S. President Donald Trump made its renegotiation a primary objective of his first term in the Oval Office.
"I will renegotiate NAFTA. If I can't make a great deal, we're going to tear it up. We're going to get this economy running again," Trump tweeted on October 19.
That hardline position was echoed by Trump's trade czar Robert Lighthizer, who is leading the administration's renegotiation efforts. Lighthizer was in Washington, D.C. August 16-20 to begin formal NAFTA talks with Canadian Foreign Minister Chrystia Freeland and Mexican Secretary of the Economy Ildefonso Guajardo Villarreal. In a joint statement following the talks, the countries said they are "committed to an accelerated and comprehensive negotiation process that will upgrade our agreement and establish 21st century standards to the benefit of our citizens."
The second round of talks has been scheduled for September 1-5 in Mexico.
How has Donald Trump's election victory impacted investor portfolios? Check out Market Catalysts: Trump's Victory to learn more.
---
Content continues below advertisement
Why Is President Trump Looking for a New Deal?
While it is generally believed that Canada and Mexico want to limit NAFTA's rework, President Trump is seeking more comprehensive changes as part of his administration's America First agenda. Central to this plan is safeguarding U.S. jobs in sectors exposed to globalization. Although NAFTA's impact on jobs and wages is subject to great debate, its implementation coincided with a 30% decline in U.S. manufacturing employment. During round one of NAFTA talks, Lighthizer said that at least 700,000 Americans have lost their jobs due to NAFTA.
Manufacturing's share of U.S. gross domestic product (GDP) has been stable at around 12% throughout NAFTA's existence, but manufacturing employment has declined sharply over that period. However, attributing these declines to NAFTA isn't so cut and dry, given that U.S. manufacturing employment has been declining steadily since the 1970s.
In addition to manufacturing, U.S. sectors tied to telecommunications, banking and agriculture have also struggled to expand overseas in the wake of the NAFTA deal. U.S. banks and telecom companies have yet to make significant inroads on either side of the border. ETF investors keen on monitoring their investment portfolios during the NAFTA renegotiation should carefully monitor holdings exposed to these and related sectors.
Washington's trade deficits with its regional neighbors also cannot be discounted from the equation. The U.S. is the only country that has made reducing the trade deficit a key objective of the NAFTA renegotiation. Targeting the trade deficit is part of the administration's wider objective to strengthen America's global trade position. After all, it didn't take long for President Trump to scrap his country's involvement in the Trans-Pacific Partnership (TPP) shortly after coming to office over concerns that it did not adequately represent U.S. trade interests.
NAFTA negotiations are expected to continue for the remainder of the year, with policymakers setting forth an aggressive timetable for reaching a new agreement. It is generally believed that all sides want to conclude talks in advance of Mexico's general election next July. With U.S. midterm elections scheduled for November 2018, officials have even greater incentive for expediting a deal.
Sign up for ETFdb.com Pro and gain access to more than 50 all-ETF model portfolios, each of which is backed by a unique investment thesis.
The Bottom Line
NAFTA has succeeded in integrating the North American economy, but it is in many ways out of touch with today's economic realities. While a swift renegotiation is to the benefit of all parties, including investors, it could prove difficult given Washington's demands.
Keep track of NAFTA negotiations from an ETF perspective by subscribing to our free newsletter.