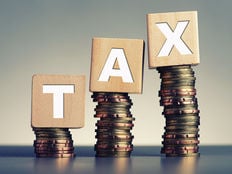 Choosing between exchange-traded funds (ETFs) and mutual funds isn't always a straightforward decision. But if taxation is your primary focus, ETFs are hands down the better option.
ETFs are significantly more tax-efficient investments than their mutual fund counterparts. The reasons boil down to asset structure and trading. While both ETFs and mutual funds are subject to capital gains and dividend taxes, a historical analysis of both investments reveals a much more efficient tax regime for ETFs.
Case in point: between 2000 and 2010, the average small-cap-oriented mutual funds generated capital gains equal to roughly 7% of the net-adjusted value (NAV). Over the same period, a similar small-cap-focused ETF paid out capital gains equal to 0.02% of the NAV. This massive gap has significant tax implications for investors.
Use our Screener to find the right ETFs for your portfolio.
Capital Gains Tax
A deeper dive into an ETF's structure reveals why the investment is more tax efficient than your typical mutual fund. Typically, ETF managers are better able to manage secondary market transactions in a way that reduces the likelihood of an in-fund capital gains event. Put simply, an index-based ETF rarely incurs a capital gains event (when it does, it's usually due to an unforeseen event). ETF holdings incur taxes only when the entire fund is sold. On the flipside, mutual fund holdings are taxed every time they are sold for profit.
At the same time, mutual funds are also subject to a phantom gain, the unenviable position of owing capital gains taxes even when your portfolio decreases in value. Mutual funds present the most common scenario for phantom gains because large groups of investors may wish to cash out their holdings at any time. This could force the mutual fund manager to sell their shares of stock to raise enough money for the payout. The act of selling shares could create a capital gain for all investors in the mutual fund.
Be sure to check our News section to keep track of the latest news on ETFs.
---
Content continues below advertisement
Dividend Tax
When it comes to dividends, stocks in an ETF may be considered qualified or unqualified. For an ETF dividend to be taxed as qualified, the capital in the fund paying the profits must be owned by the investor for at least 60 days during the 121-day period that begins 60 days prior to the ex-dividend date. It must also be paid by a U.S. or qualified foreign corporation and not be on the unqualified dividend list. Qualified dividends are taxed anywhere from 5% to 15%, depending on the investor's income tax rates.
To learn more about ETF Investing Strategies, click here.
Mutual fund holders can be taxed on a fund's dividends even if they are reinvested right away. For taxable accounts, mutual funds typically fall under ordinary income, which means they are taxed at the individual tax rate or as qualified dividends. In the case of the latter, they are taxed at a maximum rate of 15%.
ETF Tax Exceptions
Like any other investment class, ETFs have certain exceptions with respect to taxes. For starters, emerging market ETFs have the potential to be less tax efficient because they are restricted from performing in-kind deliveries of securities. This means they have to sell securities to raise capital for redemptions instead of just delivering stock – a taxable event in most cases.
Leveraged and inverse ETF products are not only riskier, but they have also been shown to be less tax efficient than regular ETFs. Such funds have large capital gains distributions and typically use derivatives that cannot be delivered in-kind. This means they must be bought or sold. The Internal Revenue Service (IRS) treats gains from leveraged/inverse products using the '60/40' rule, which means 60% are considered long-term gains and 40% are classified as short-term gains.
ETFs that track the performance of a custom benchmark are also less tax efficient due to higher turnover. In the investing world, higher turnover leads to more taxable events. High turnover is also prevalent for fixed-income ETFs, which have more redemptions than equity-based funds.
Don't forget to read this article to learn more about how ETFs can be used for tax-loss harvesting.
The Bottom Line
In addition to having a more efficient tax regime, ETFs posses many other advantages relative to mutual funds. This includes greater transparency, lower fees and expenses, and lower minimum investment requirements. These features make ETFs more accessible to mainstream investors and to those who have just begun their investing journey.
For more ETF news and analysis, subscribe to our free newsletter or sign up for ETFdb.com Pro to get access to our ETF Guides.