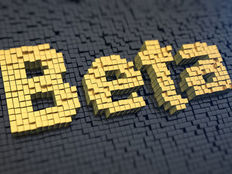 Smart beta exchange-traded funds (ETFs) have become a popular way for investors to target specific portfolio outcomes like reduced risk, enhanced returns or higher income at a lower cost than actively managed funds.
According to BlackRock, a leading ETF provider, the assets under management (AUM) in smart beta ETFs will grow at a 20% rate to reach $2.4 trillion by 2025, as a growing number of investors and funds seek out advanced strategies.
In this article, we'll look at smart beta ETFs and their emerging application in the fixed income markets.
What Are Smart Beta ETFs?
Smart beta ETFs use index-based strategies to choose securities or to weight securities for intentional reasons other than their market capitalization, geography or sector classification. For example, iShares Russell 1000 Value ETF (IWD A-) invests in the Russell 1000 Index and weights the components based on value characteristics rather than market capitalization. This helps investors invest more in undervalued rather than large-cap stocks.
Smart beta ETFs use many different strategies across a range of asset classes. The most popular strategies include value, growth, low volatility and dividend-focused concepts, but others blur the line between actively managed funds and smart beta funds. For example, the AlphaDEX methodology is described as a "group of custom enhanced indexes which employ the proprietary, rules-based AlphaDEX® fundamental stock selection methodology."
Fixed income has been the latest target of smart beta ETFs, although the market still faces some key challenges. Low liquidity, high transaction costs and limited data have made it difficult to execute alternative weighting schemes in the fixed income market. But the idea of weighting bonds based on repayment ability, duration or momentum rather than the market value of debt – that favors highly indebted issuers – seems more logical.
Some of the most popular smart beta fixed income ETFs include:
---
Content continues below advertisement
| Ticker Symbol | Name | Strategy | AUM | Expense Ratio |
| --- | --- | --- | --- | --- |
| (PHB ) | PowerShares Fundamental High Yield Corporate Bond Portfolio | Fundamental | $1.1 Billion | 0.50% |
| (VBND ) | Vident Core U.S. Bond Strategy ETF | Fundamental | $484 Million | 0.48% |
| (AGGP ) | IQ Enhanced Core Plus Bond U.S. ETF | Momentum | $249 Million | 0.35% |
| (TDTT ) | FlexShares iBoxx 3-Year Target Duration TIPS Index Fund | Duration | $1.8 Billion | 0.20% |
| (TDTF ) | FlexShares iBoxx 5-Year Target Duration TIPS Index | Duration | $655 Million | 0.20% |
For a deeper understanding of these funds, check out ETFdb's ETF Analyzer tool to select ETFs by category and compare performance, expenses, dividend yields and more.
Are They Worth It?
There are two factors to consider when using smart beta fixed income ETFs.
Smart beta ETFs tend to have higher fees than passively managed ETFs since they have more complex strategies to execute and often experience higher turnover. These funds must overcome these fee differences to outperform their passively managed counterparts, which can be a high hurdle to surmount in an increasingly efficient marketplace. Investors should always be cognizant of these fees when comparing their fund options.
Investors should also consider the relative performance of smart beta fixed income ETFs compared to traditional fixed income ETFs. When comparing returns, it's important to consider similar non-smart beta fixed income funds to create fair comparisons. An example might be comparing the PowerShares Fundamental High Yield Portfolio (PHB B) with the popular iShares iBoxx $ High Yield Corporate Bond ETF (HYG B+).

As we can see from the chart above, PHB has outperformed HYG during the three-year period from November 18, 2013 to November 25, 2016. It's also important to take performance comparisons with a grain of salt. In the bond market, specific conditions (such as low interest rates) can persist for very long periods of time, which means that a strategy may outperform over the long term, but not necessarily the short term, if interest rates are about to change. Other funds may offer significantly less risk than competing funds even if they underperform by a modest amount.
The Bottom Line
Smart beta ETFs have only recently started targeting the fixed income space, but they may offer some compelling benefits for investors to consider. Investors can use fundamental strategies to reduce risk, duration strategies to mitigate interest rate risks and momentum strategies to capitalize on short-term price movements. Of course, it's important to consider expense ratios and performance returns when determining if these funds are worth it.
Investors seeking income investments may also want to checkout smart beta dividend ETFs as an alternative to fixed income investments. In addition, investors may want to consider these other smart beta income ETFs for alternative strategies in the space.

To learn more about how smart beta affects other asset classes, check out the rest of our Smart Beta articles: