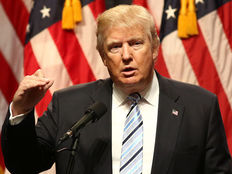 There's no denying that President Donald Trump is the total polar opposite of his Democratic rival Hillary Clinton on almost all of their policies. Especially when it comes to their stances on energy. While Clinton made renewables and alternative energy sources a big part of her plans, Trump is betting on more traditional energy sources.
Namely, coal and crude oil.
Trump's energy plans are deeply rooted in increasing fossil fuel demand and supply. So deeply rooted in fact that while Trump hasn't exactly outlined specifics, his election to office could significantly boost the energy stocks and exchange-traded funds (ETFs) that track them.
What Clean Power Plan?
Trump couldn't have picked a better place to unveil his energy policy. During a May speech in North Dakota – one of the nation's biggest fracking capitals – Trump vowed to make the United States fully energy independent by reducing U.S. dependence on foreign oil. In order to do that, Trump pledged to remove environmental and energy regulations, and boost sagging energy production.
A core piece of his plan is to cancel the Clean Power Plan. Enacted under president Obama, the plan was designed to reduce carbon emissions by 30% from 2005 levels by the year 2030. Under the act, the EPA was given the power to enforce various rules that resulted in the closure of a multitude of coal-fired generation plants. The act has been called "stupid" by Trump and he has promised to rescind it within the first 100 days of his tenure. In addition to repealing the act, Trump has pledged to reduce the EPA's power further and restrict their ability to enforce actions. He also intends to reduce their operating budget. Trump has mentioned that he would withdraw from the globally binding Paris Climate Accord.
Aside from killing the Clean Power Plan, Trump's other energy policy ideas include approving the Keystone XL pipeline, restoring coal jobs, boosting fracking on federal lands and leveling the playing field for all forms of energy. That means reducing the subsidies for alternative and renewable energy.
As with many of Trump's plans, he was short on the details. However, his basic ideas were rooted in fossil fuel production over other sources of energy.
---
Content continues below advertisement
The Trump ETF Plays
Given that Trump's plans call for rising fossil fuel supply and demand, a win by the 'The Donald' could translate into big gains for stocks in the energy sector. Ultimately, the various ETFs that hone in on the industry and its various sub-sectors could be big winners over the next four years.
| Ticker | Name | Issuer | ETFdb Category | Expense Ratio |
| --- | --- | --- | --- | --- |
| (VDE ) | Vanguard Energy ETF | Vanguard | Energy Equities | 0.12% |
| (IYE ) | iShares U.S. Energy ETF | iShares | Energy Equities | 0.44% |
| (XES ) | SPDR S&P Oil & Gas Equipment & Services ETF | State Street | Energy Equities | 0.35% |
| (KOL ) | VanEck Vectors Coal ETF | Van Eck | Energy Equities | 0.59% |
| (XLU ) | Utilities Select Sector SPDR Fund | State Street | Utilities Equities | 0.15% |
| (AMLP ) | Alerian MLP ETF | ALPs | Technology Equities | 0.85% |
With $3.9 billion in assets and 135 different holdings, the Vanguard Energy ETF (VDE A) could be the best place for investors to start. The fund tracks the MSCI US Investable Market Energy 25/50 Index, which is basically a measure of the entire energy industry, including E&P firms, downstream players, oil service stocks, midstream/pipeline firms, etc. What's more is that VDE tracks/holds them across large-, mid- and small-cap exposure. You're basically getting the entire U.S. energy industry across one ticker. With that in mind, it's probably the best all-in ticker for energy stock exposure. And as a Vanguard fund, it's dirt cheap to own. Expenses run just 0.12%.
Another choice is the iShares U.S. Energy ETF (IYE A-) with broad energy exposure.
Expanded energy production means expanded fracking of America's shale and drilling in the deepwater of the Gulf of Mexico. It takes a lot of muscle and know-how to drill in these locations. That's why under Trump's plans, the oil services firms and the SPDR S&P Oil & Gas Equipment & Services ETF (XES B+) could be big winners. XES tracks an equal-weighted index of all the rig equipment and service firms that provide the equipment needed to actually drill. If Trump wins, it can be enough to restart faltering demand for XES's underlying holdings.
The crux of eliminating the Clean Power Plan comes down to coal. By removing it and its restrictions, the idea is that coal demand – and the power plants that run on it – will return, and that should benefit the VanEck Vectors Coal ETF (KOL B+) and Utilities SPDR (XLU A). KOL tracks a global basket of coal miners, and is seen as a proxy for the sector and coal prices; while the XLU owns the major utilities in the U.S. A few of the biggest ones still have plenty of coal-fired exposure on the chopping block, but that could all be saved if Trump wins.
Finally, if Trump is successful at approving the much-maligned Keystone XL, we could see a huge increase in pipeline construction activity. Alerian MLP ETF (AMLP A-) is still the best and biggest way to bet on the pipeline players. AMLP tracks a basket of energy infrastructure Master Limited Partnerships. These are firms that get the bulk of their cash flows from the transportation, storage and processing of energy commodities.
The Bottom Line
In the end, Trump's energy policies focus heavily on fossil fuel production and demand. With him as President, stocks in the traditional energy sector should benefit. The higher profits and revenues will ultimately benefit the ETFs that track the sector as well.