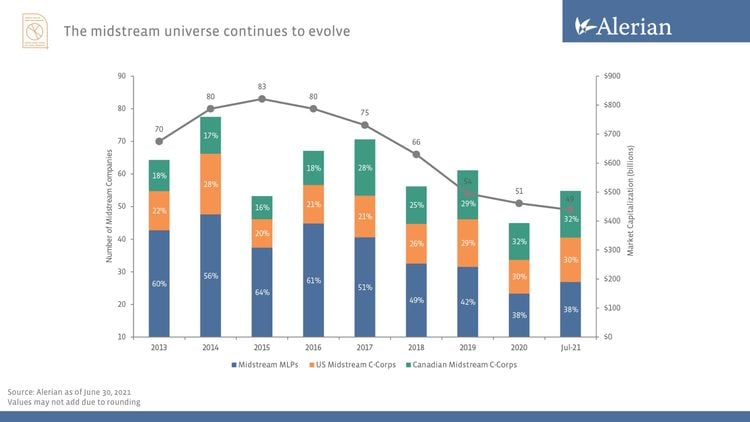 The Midstream Universe Continues to Evolve
The North American midstream energy infrastructure universe has evolved over time. For investors, it is informative to understand the breakdown of the midstream energy infrastructure universe among MLPs, US corporations, and Canadian corporations.
---
Content continues below advertisement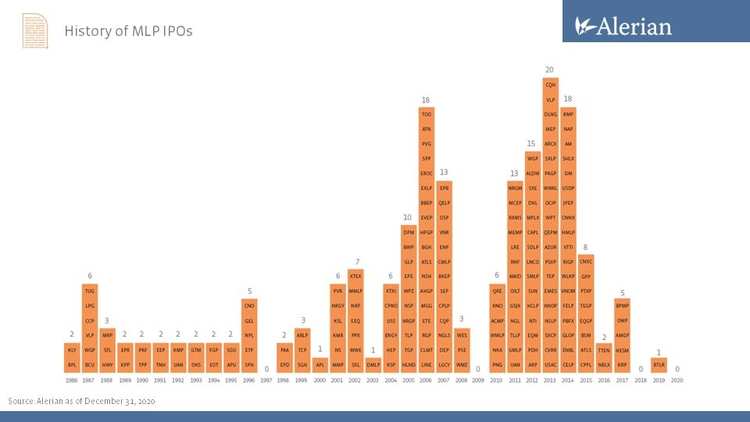 History of MLP IPOs
In any given year, the number of MLP IPOs launched depends on the broader market, investor sentiment, energy fundamentals, and new businesses eligible for the MLP structure.
Establishment of the Energy MLP
During the late 1990s and early 2000s, names that are now large-cap core midstream holdings in most MLP investors' portfolios went public. These names paved the way for MLP market cap to grow fivefold to $50 billion in 2004. When commodity prices improved in the early/mid-2000s, several E&P and marine transportation MLPs went public. With expanded private letter ruling (PLR) interpretations of qualifying income from the IRS and the passage of the JOBS Act in 2012, many non-traditional businesses monetized their assets into the MLP structure in the 2011- 2014 timeframe, including frac sand, fertilizer, and mineral interest companies. In 2018, multiple MLPs have been consolidated by their general partners, reducing the number of energy MLPs.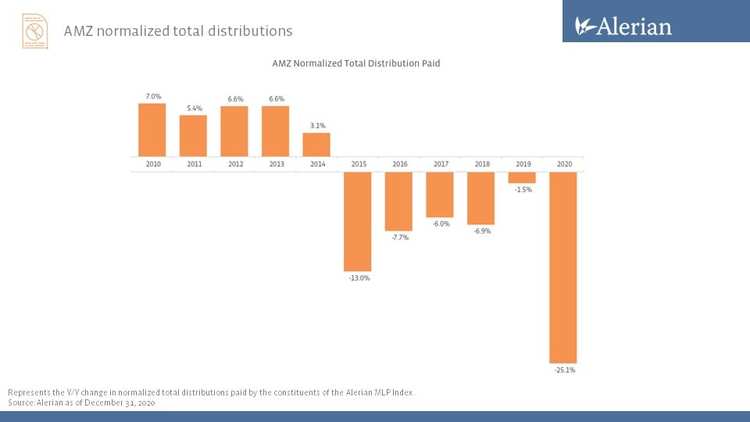 AMZ Normalized Total Distributions
While the majority of MLPs have continued to grow their distributions on a quarterly basis, it may not feel that way for investors and their bank accounts. In order to address that disconnect, we created this chart depicting normalized total distributions paid by the AMZ Index. For an explanation of the method used to calculate normalized total distributions, please click here.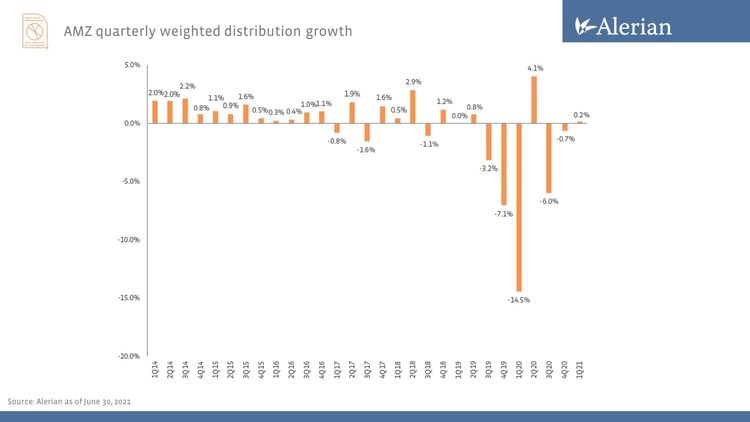 AMZ Quarterly Weighted Distribution Growth
Quarterly weighted distribution growth is calculated by examining the individual distribution growth rates for each index constituent on a quarterly basis. Those constituent-level growth rates are then multiplied by each constituent's weight in the index. Those weighted values are then combined to give the overall weighted quarterly distribution growth rate for the index. When Alerian calculates the distribution growth rate for 4Q17, we use the distributions announced and paid in 1Q18 related to 4Q17 performance.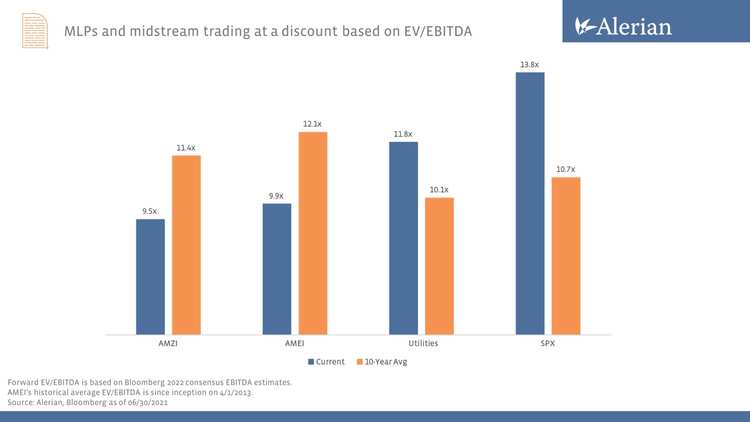 MLPs and Midstream Trading at a Discount Based on EV/EBITDA
On a forward EV/EBITDA basis, MLPs (as represented by the AMZI) and midstream (as represented by the AMEI) are currently trading at a discount relative to Utilities and the S&P 500. Notably, MLPs and midstream are also trading below their historical ten-year average forward EV/EBITDA while Utilities and the S&P 500 are trading at premiums relative to history.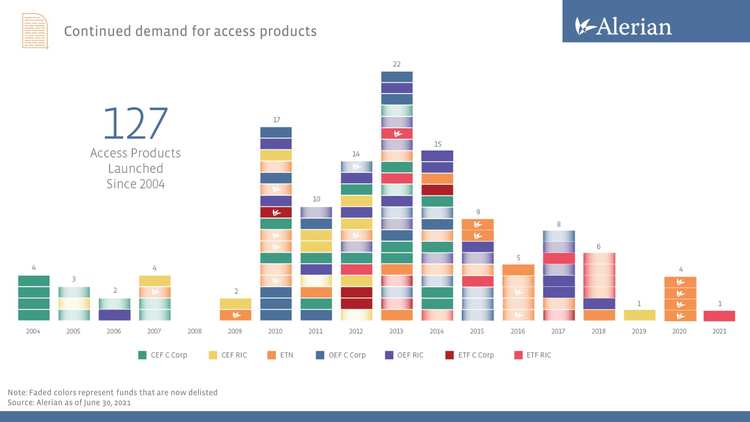 Continued Demand for Access Products
Prior to 2007, the only available way to invest in MLPs on an exchange (other than directly) was through a closed-end fund. These funds were the first pooled products to compile K-1s and return a Form 1099 to investors. Since then, mutual funds, ETNs, and ETFs have launched, offering investors different objectives and preferences. For additional information, please see our white paper on the evolution of MLP and energy infrastructure products.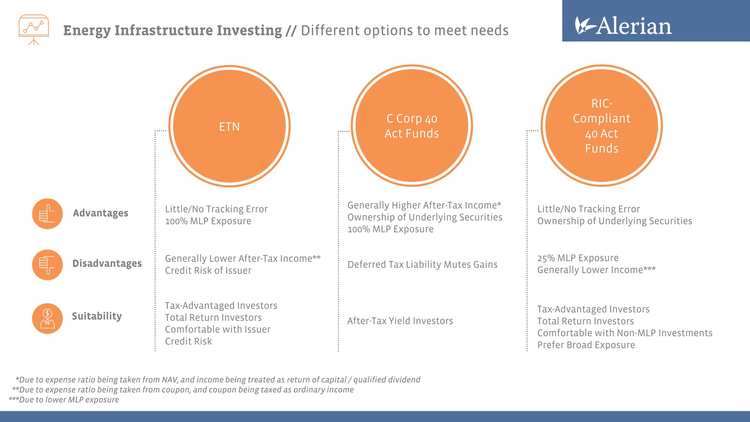 Energy Infrastructure Investing // Different Options to Meet Needs
As Alerian continually reiterates, for a US taxable investor who is comfortable building a portfolio as well as filing K-1s and state taxes, a direct investment in individual MLPs will always be the most tax-efficient way to access the space. When considering an access product, investors are urged to consider fees, tracking, liquidity, leverage, credit risk of the issuer, and tax treatment, among other issues.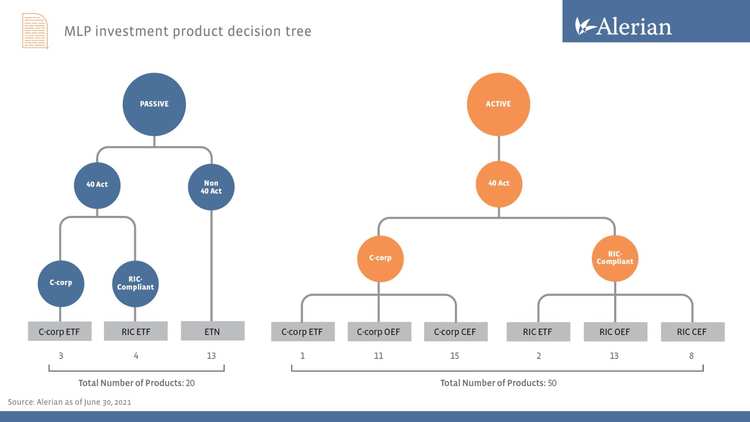 MLP Investment Product Decision Tree
With a diversity of options available, choosing an MLP investment product can be a difficult process. Please see our Applied MLPs section for further information on the various types of MLP investment products available.
The accuracy and/or completeness of any Alerian index, any data included therein, or any data from which it is based is not guaranteed by Alerian, and it shall have no liability for any errors, omissions, or interruptions therein. Alerian makes no warranties, express or implied, as to results to be obtained from use of information provided by Alerian and used in this service, and Alerian expressly disclaims all warranties of suitability with respect thereto.