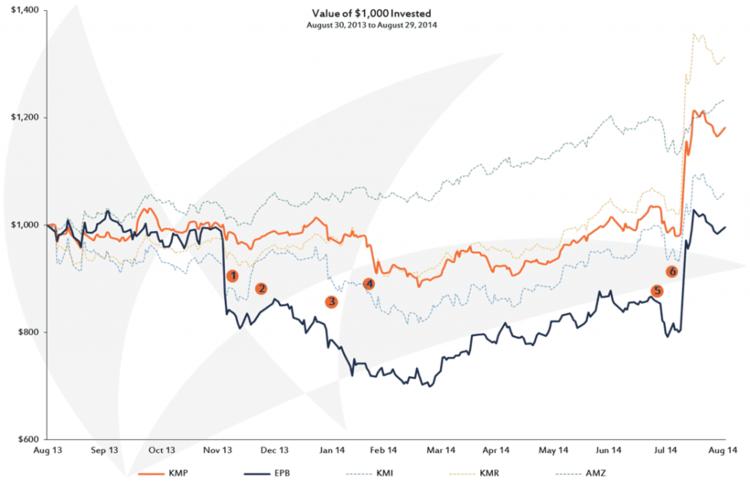 December 3, 2013. 

Kinder Morgan releases guidance

 for its family of companies that was generally below sell-side analysts' expectations. EPB's distribution, previously growing at double digits, is expected to be flat for 2014. Despite a schedule of dropdowns and expansion projects expected during the year,

EPB

distribution growth will be hindered by rate cases and lower contract renewal rates. Distribution growth of 5% for

KMP

and

KMR

is seen as slightly negative, as it falls at the low end of the 5%-6% long-term range previously given by management.

KMI

, which receives IDRs from both companies, also has its distribution growth rate reduced, to 8% from 9%-10% previously.



December 18-31, 2013. During the last two weeks of December, the S&P 500, the

AMZ

, and the Kinder family of companies (especially

KMI

) all rally. The

January effect

 may simply have been early. In the last week of the year, Kinder

acquires five Jones Act vessels

, entering the domestic tanker business.


 January 29, 2014. No major announcements are made during

Kinder's analyst day

. The only notable update is that EPB's distribution growth is expected to resume in 2017. The Kinder Trade this year loses 2.8% on

KMP

and 1.1% on

KMR

. In 2013 and 2012, the Kinder Trade would have made an investor 10.3% and 16.9% for

KMP

, and 12.7% and 14.9% for

KMR

, respectively.


 February 22, 2014. 

Barron's features Kinder Morgan

 but is decidedly bearish.

Kinder Morgan responds

 the following day. In the next week, the article, author, and publication are criticized in the comments section. Additionally, sell-side analysts and other articles note the lack of perspective and failure to provide a contrasting opinion.


 July 31, 2014. MLPs pull back 4.3% on a price return basis in July, following a 13.0% positive return during the first half of the year. Underperformance is likely due to some profit taking and fears of rising rates, as many income-oriented sectors also saw a pull back. Kinder's second quarter earnings reports were in line with expectations.


 August 10, 2014. 

Consolidation announcement

 indicates that

KMI

will buy

KMP

,

KMR

, and

EPB

for a total of $71 billion, making it the second largest energy deal in history. Based on the previous day's closing price,

KMP

is bought at a 12.0% premium,

KMR

at a 16.5% premium, and

EPB

at a 15.4% premium. Further

Alerian commentary is available

.
---
Content continues below advertisement