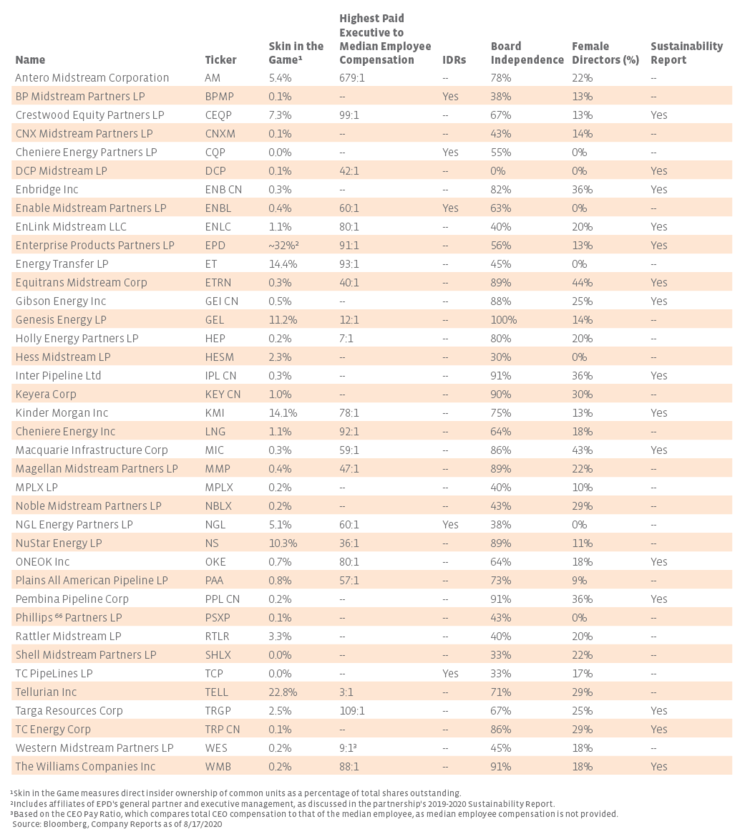 Another notable governance improvement that has continued over the last year has been the elimination of incentive distribution rights (IDR) by MLPs. IDRs have widely fallen out of favor with investors, and their removal helps lower an MLP's cost of capital while better aligning the interests of the general and limited partners (read more). Since October 2019, CNX Midstream Partners (CNXM), DCP Midstream (DCP), Delek Logistics Partners (DKL), Hess Midstream (HESM), Noble Midstream Partners (NBLX), and Shell Midstream Partners (SHLX) have all closed IDR elimination transactions. As shown in the chart below, 86.9% of the Alerian MLP Infrastructure Index (AMZI) by weighting no longer has IDRs, with recent eliminations partially offset by the higher index weightings of Cheniere Energy Partners (CQP) and TC PipeLines (TCP). Going forward, the portion of the MLP universe with IDRs is expected to continue to shrink.
---
Content continues below advertisement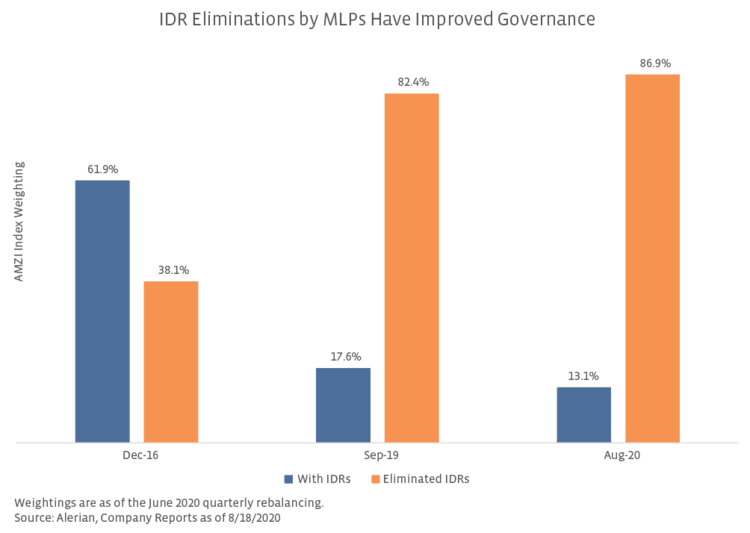 What are the next steps for ESG in midstream?
Midstream has begun to take its first steps in advancing its sustainability profile through general improvements in ESG reporting and metrics, but where does the space go from here? First and foremost, the measures adopted by the companies highlighted in this report need to be embraced by the rest of the energy infrastructure universe. While the improvement in the overall number of companies issuing sustainability reports has been notable over the last ten months, these names still represent the minority in the industry. Additionally, when companies do address ESG considerations, it should be in a comprehensive and transparent manner, preferably with a standardized reporting framework for investors to easily use in comparisons. Finally, management teams should continue to prioritize ESG issues by emphasizing safety, reducing emissions, committing to diversity, and aligning their interests with those of shareholders. Alternative energy projects, such as investment in wind or solar energy, could represent an opportunity for midstream operators to improve their emissions profiles while potentially diversifying their revenue streams. Though the industry clearly has a way to go, the strides made within the last several months should provide investors with confidence that the ESG focus within energy infrastructure is here to stay.
Bottom Line
Growing investor focus on ESG considerations has required companies across industries to address related concerns, including midstream. While midstream makes money by transporting, storing, and processing hydrocarbons, the nature of the business does not make ESG concerns irrelevant, and on the other extreme, it does not preclude any investors with ESG sensitivities from investing in midstream. ESG investing can encompass midstream investing, as these companies continue to provide transparent and comparable sustainability reports and demonstrate improvements in ESG metrics over time.