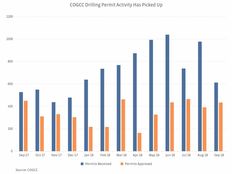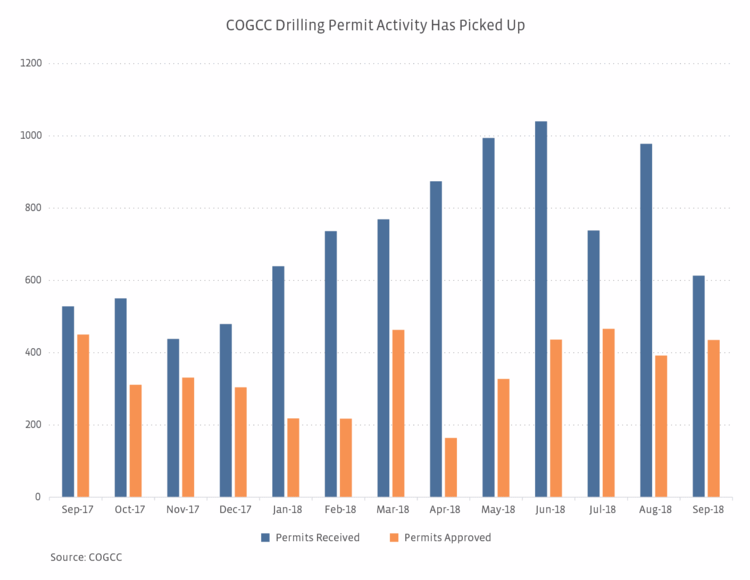 On a related note, Amendment 74 (Initiative #108) is also on the ballot and "requires the state or a local government to compensate a property owner if a law or regulation reduces the fair market value of his or her property" (source). While not wanting to open another can of worms on Amendment 74, if both Proposition 112 and Amendment 74 pass, it would be easy to see where things could get messy. Keep in mind that Colorado's governor must provide a balanced budget to the state legislature, which is then required to adopt a balanced budget. Oil and gas producers pay significant taxes, including severance tax to the state that averaged $144 million net per year for fiscal years 2013-2017. Local property taxes for oil and gas producers in aggregate were estimated at nearly $500 million last year.
What have companies said?
For the most up-to-date commentary, the best source will likely be 3Q earnings calls from E&Ps and midstream companies, as mentioned in our earnings preview from two weeks ago. These calls will largely be held later this week and next week. When asked about Proposition 112 on its 2Q call, the CEO of DCP Midstream (DCP) discussed how Colorado voters had opposed these types of measures in the past. Noble Energy (NBL) included the slide below in its presentation for the Barclays conference in September, which highlights estimated impacts if Proposition 112 is implemented. NBL also notes that the Colorado legislature can amend or eliminate the proposition even if it is passed. This Colorado Sun article also notes that the legislature could make revisions if passed, but changes to ballot measures have been rare historically.
---
Content continues below advertisement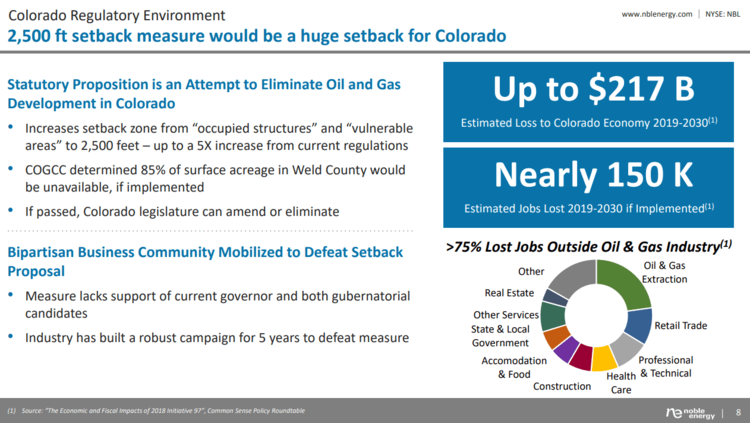 Which midstream companies have exposure to Colorado?
In the midstream space, examples of companies with exposure to Colorado include DCP, Noble Midstream Partners (NBLX), SemGroup (SEMG), Tallgrass Energy (TGE), and Western Gas Partners (WES). This list is not exhaustive. For example, Williams (WMB) has assets in Colorado and Plains All American (PAA) does as well, but the size and diversity of their businesses helps insulate them from Proposition 112 headline risk. The graph below shows indexed price performance of some midstream names with Colorado exposure compared to the Alerian MLP Infrastructure Index (AMZI). TGE is the only name of those included to have outperformed the AMZI Index for the period shown.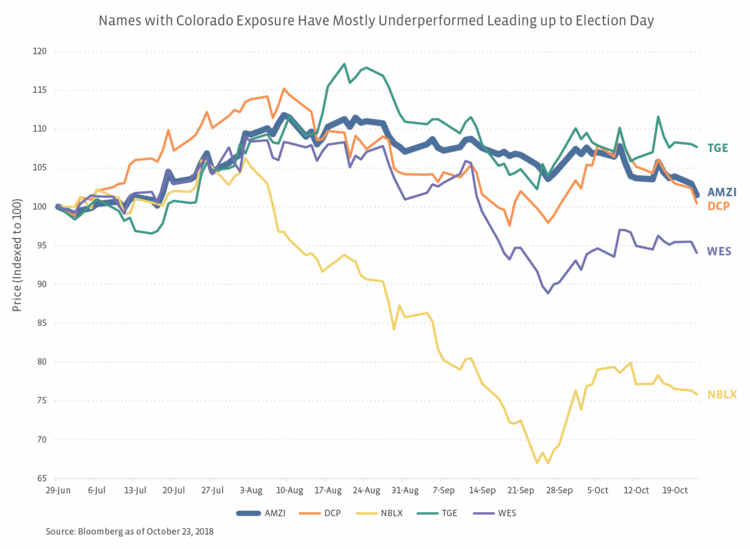 Bottom Line
Colorado's Proposition 112 represents yet another manifestation of headline risk that has weighed on the MLP and midstream space this year. Even if passed, lengthy litigation would likely ensue. If passed and ultimately implemented, it would take time for production to be negatively impacted as the backlog of previously permitted wells are drilled. If it does not pass and another legislative compromise is not introduced, a similar measure may be on the ballot in 2020, again creating uncertainty for investors.