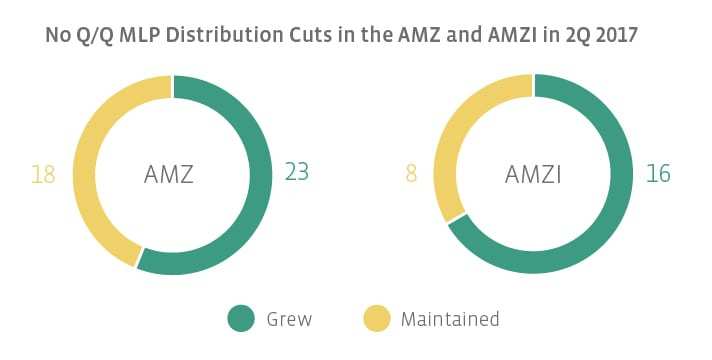 AMZ Q/Q Fun Facts



Alliance Resource Partners (

ARLP

) won the percentage increase contest this quarter with a 14.3% bump from $0.4375 to $0.50. They're a coal company, y'all. What made this possible when their earnings press release said that coal sales continued to decline? ARLP's GP, Alliance Holdings GP (

AHGP

) eliminated its incentive distribution rights (IDRs) in the company. If you've forgotten how IDRs work, they are generally put in place to incentivize the GP to grow LP distributions by entitling GPs to receive a higher percentage of incremental cash distributions when the distribution to LP unitholders reaches certain thresholds. Removing IDRs means there is more cash available for distribution to LP unitholders because nothing is going to the GP. Therefore, this elimination is the primary driver behind this increase.


Including

ARLP

, there were eight companies that increased distributions by 5% or more: Tallgrass Energy Partners (

TEP

), Noble Midstream Partners (

NBLX

), Antero Midstream Partners (AM), Valero Energy Partners (

VLP

), TC Pipelines (

TCP

), Dominion Midstream Partners (DM), and

EQT

Midstream Partners (

EQM

).
AMZI Q/Q Fun Facts
Of the 16 MLPs that grew distributions in the

AMZI

, seven increased payouts by 4% or more:

TEP

, AM,

TCP

,

EQM

, Phillips 66 Partners (

PSXP

), Shell Midstream Partners (

SHLX

), and

MPLX

(

MPLX

).
We're counting Energy Transfer Partners (

ETP

) as one of the companies that grew distributions this quarter because, technically, the entity we now know as

ETP

(former

SXL

) did increase. However, if you were an

ETP

owner before the merger, ETP's distribution was $1.055 per unit. So, it's a little tricky, but we're moving forward by looking at

ETP

in its current form.
Next, we have the year over year data, which compares 2Q 2016 and 2Q 2017. If the name was in the index in both 2Q 2016 and 2Q 2017, I compared the distributions. Please note there is survivorship bias in this method.

---
Content continues below advertisement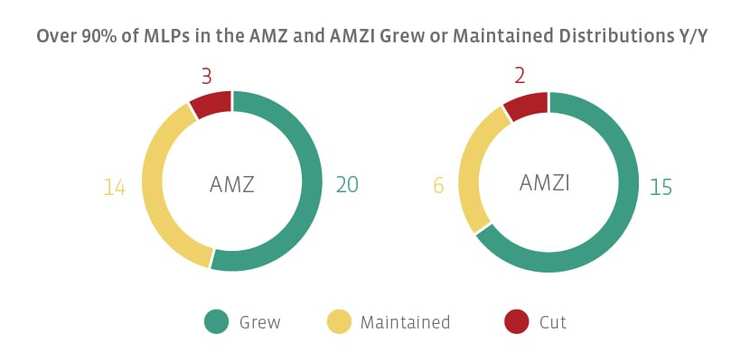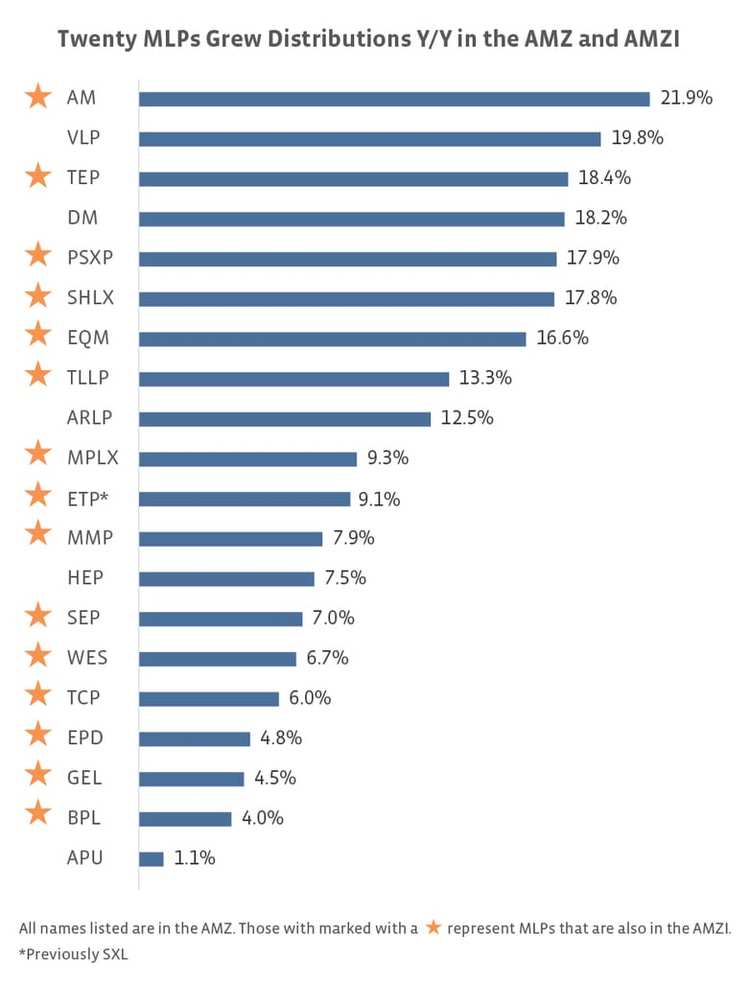 Names that maintained year over year (all names listed are in the

AMZ

, those with a * represent MLPs that are also in the

AMZI

):

















Those that cut year over year were Enbridge Energy Partners (EEP), Martin Midstream Partners (MMLP), and Williams Partners (WPZ).