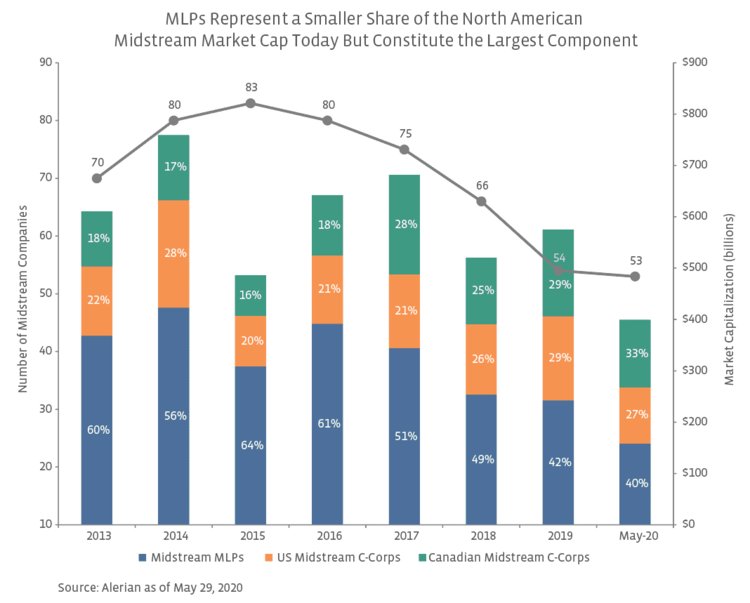 What about exchange-traded notes (ETNs)?
Exchange-traded notes (ETNs) are unsecured debt obligations of the issuer, who agrees to pay the investor a specified return – typically the return on an index. ETNs are another option for achieving full exposure to MLPs without the tax drag associated with C-Corp funds, assuming the ETN is tracking a basket of MLPs. ETNs can provide exposure to both MLPs and C-Corps, though that tends to be less common. As with RIC and C-Corp funds, there are some drawbacks to ETNs. Namely, ETNs expose the investor to the credit risk of the issuer, and coupons are taxed at ordinary income rates, making ETNs better suited to tax-advantaged accounts. Additionally, the fee for ETNs is taken out of the coupon, which reduces the income. The graphic below summarizes the pros and cons of the three main product options for accessing the MLP space.
---
Content continues below advertisement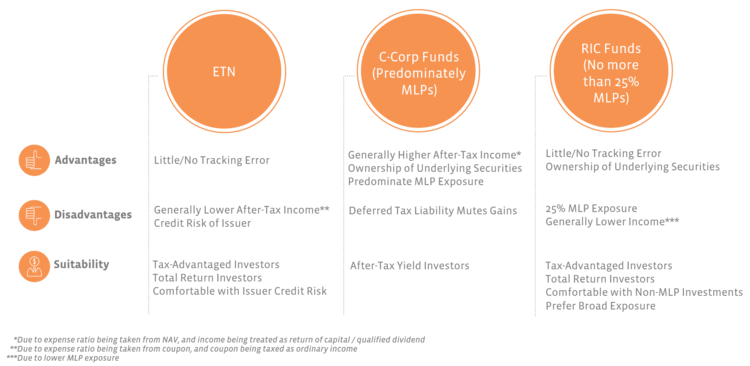 Putting it all together: Determining the right MLP investment.
With a number of product options in the MLP and energy infrastructure space and nuances to each, the decision tree below attempts to streamline the investment options based on an investor's needs or expectations and the type of account. For brevity, the graphic refers to "MLP ETFs" to represent C-Corp funds owning mostly MLPs and "RIC ETFs" to represent RIC funds. For investors preferring active management, an ETF could be replaced with an actively managed mutual fund. Furthermore, there may be other reasons for preferring the ETF or ETN structure, but credit risk is used to differentiate between ETFs and ETNs where both could be suitable investment options.
The decision tree is meant to represent the optimal scenarios, but there could be deviations from these situations in real life. For example, it is common to run into investors owning MLP ETFs in a tax-advantaged account. It is not wrong, but it's a bit like wearing a belt and suspenders to own an investment with tax-advantaged income in a tax-advantaged account. That said, an investment in an MLP ETF in a tax-advantaged account does not trigger Unrelated Business Income Tax (read more), which could be an issue if owning MLPs directly in a tax-advantaged account. In other words, there may be other motivations for owning an MLP ETF in a tax-advantaged account.