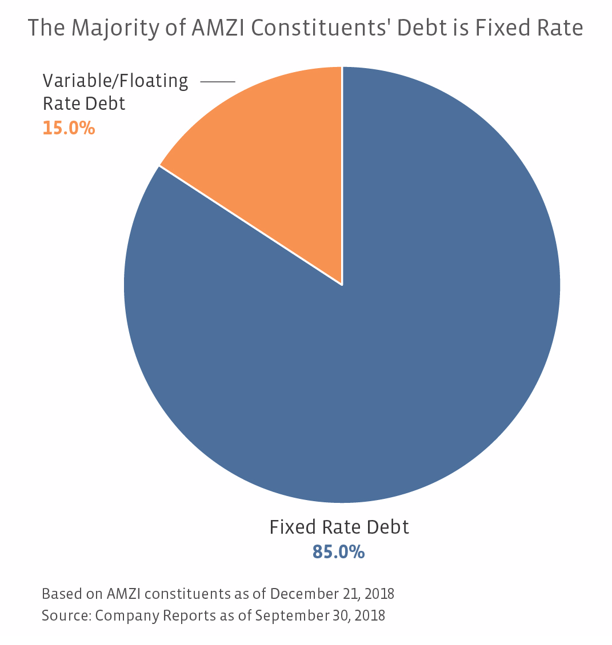 AMZI constituent debt maturities are biased to the intermediate and long term.
We also wanted to explore the maturities of AMZI constituents' debt to see how they might be impacted by increasing interest rates in both the short and long term. The pie chart below shows that MLPs in the AMZI have only a small percentage of debt – 10.2% – that qualifies as short term (maturing in 0-2 years). The majority of debt (52.6%) is intermediate term with maturities in the three to ten-year time range, and a substantial portion (37.2%) is long term and will mature in more than ten years. About $40 billion of debt will likely need to be refinanced within the next five years among AMZI constituents, including $13.5 billion that will be due within the next three years.
---
Content continues below advertisement
The chart below shows AMZI constituents' debt maturities in more granular detail. While 63% of the debt will mature within a decade, there are several companies that have issued long-term debt dated past 30 years. In general, bonds with longer maturities are more sensitive to changes in interest rates, which is essentially a bond's duration. Enterprise Products Partners (EPD) has the most (very) long-term debt outstanding with $3.07 billion maturing between 2054 and 2078. Significantly, EPD has an issuer rating of BBB+ from S&P, which provides the company some flexibility to issue bonds with lengthy terms. Buckeye Partners (BPL), Energy Transfer (ET), and MPLX (MPLX) also have relatively small offerings that mature in 30 years or more. Notably, as of December 31, 74.7% of the AMZI Index by weighting had an investment grade credit rating.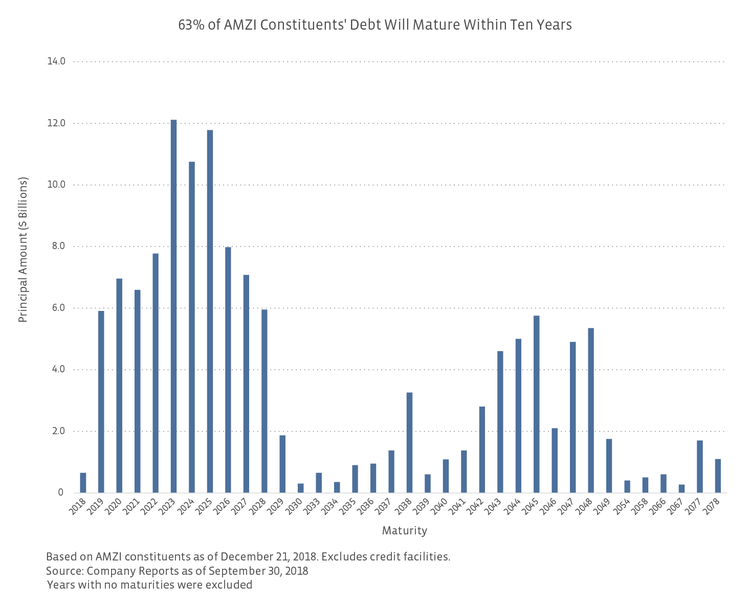 Bottom Line
With interest rates gradually rising, companies with large amounts of debt generally will face higher borrowing costs. However, based on the debt profiles of AMZI constituents, MLPs are in a generally favorable position in the current environment given their high usage of fixed rate debt with mostly medium and long-term maturities. As a result, while interest rates are undoubtedly on the radar of MLP CFOs, rising rates are unlikely to be keeping them up at night for the next few years.