The chart implies ~300 MMBbls of available crude storage as of last Friday. However, the working storage capacity and utilization numbers ignore volumes in transit. Last week, there were 128.6 MMBbls of crude in pipelines or being moved by rail or water, which is 2 MMBbls higher than at the end of January. Admittedly, volumes in transit are not taking up space in tank farms, but some portion of volumes in transit could end up in storage depending on the end demand for those barrels. If volumes in transit are assumed to completely move into storage (which is an unlikely extreme), then the remaining storage capacity would be 169 MMBbls instead of ~300 MMBbls.
---
Content continues below advertisement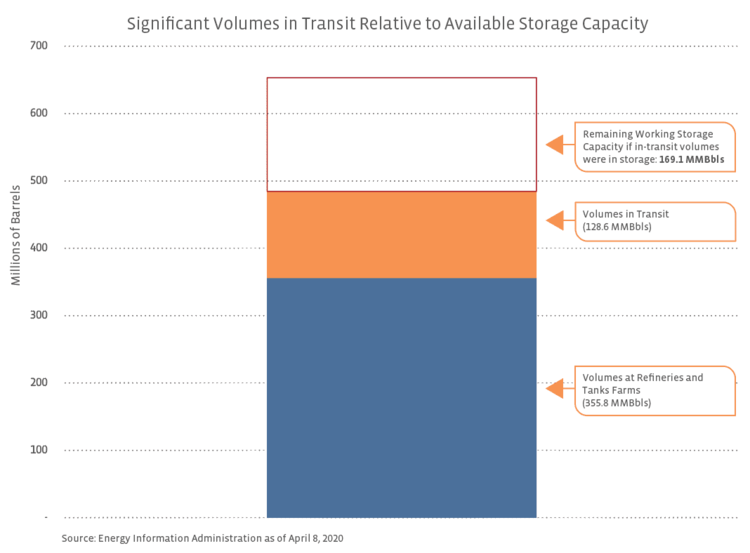 Lastly, refined product inventories are also in focus, particularly for gasoline. Gasoline inventories increased by 10.5 MMBbls last week and are 10% above their five-year average. Consistent with other data, distillate saw a much smaller increase of 0.5 MMBbls for the week ended April 3, and inventories are below five-year averages.
Bottom line
The EIA's Weekly Petroleum Status Report will be closely scrutinized for insight into the demand impacts of coronavirus and any indications of nearing crude storage constraints. For midstream, greater demand for storage could be an incremental positive (read more), while contract features like minimum volume commitments (read more) should help mitigate the impact of lower oil production to midstream. While the oil market will be fixated on the OPEC+ meeting today, which could provide more near-term clarity for oil prices, the weekly report from the EIA will be closely watched for weeks to come and eventually for signs of improving demand.