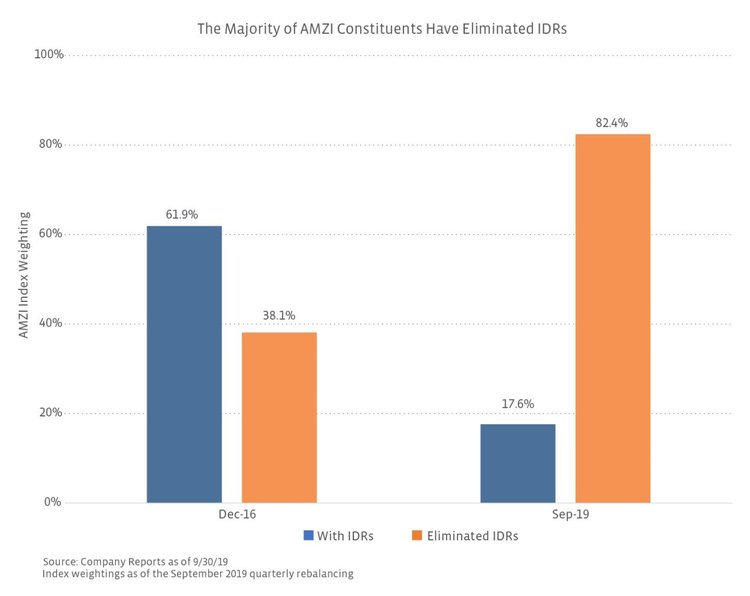 The table below displays different corporate governance metrics for the top 30 constituents of the AMNA. While MLP unitholders typically do not have the right to vote in board elections, there are a few exceptions to the rule. Common unitholders of Magellan Midstream Partners (MMP), Buckeye Partners (BPL), and NuStar Energy (NS) are all allowed to vote for members of the board. Plains All American (PAA) unitholders can also vote for seven members of the board of directors, but the remaining six are designated or appointed by the GP. A board of directors with a high percentage of independent directors is positive for corporate governance. The average midstream board of directors based on the top 30 AMNA constituents is made up of nearly 70% independent directors. Out of 30 boards, seven MLP boards consist of less than 50% independent directors.
Skin in the game measures insider ownership of common units as a percentage of total shares outstanding. Average insider ownership is a low 2.1% for the top 30 AMNA constituents, but insiders of two midstream operators – Energy Transfer (ET) and Kinder Morgan (KMI) – own more than 10% of outstanding units/shares. Executive compensation is often discussed in tandem with skin in the game. Executive compensation should align the interests of company management with those of shareholders. Additionally, executive compensation should not be tied too much to a single metric such as distribution growth.
---
Content continues below advertisement
Where does midstream go from here?
As interest among generalists and international investors alike continues to increase for ESG, the onus will be on midstream management teams to increase the information provided to allow for thoughtful decisions by investors. In many cases, midstream companies may already have extensive ESG data available as a result of risk management and monitoring practices, and the burden rests mostly in packaging this data into a report. Eventually, the ideal would be a midstream space with uniform metrics that allow for efficient comparability between companies, but investors would likely settle for simply having more data available in any form.
After making sustainability reports an industry standard, there are a few key environmental and social metrics that midstream companies should prioritize in reporting, which were listed with comments below. ESG reporting should not stop with the metrics prescribed in this paper; energy infrastructure companies should report any metrics that would give investors a clearer picture of how the entity operates. It is also important to note that ESG goes beyond environmental, safety, and social reporting. Governance issues are just as important as environmental and social issues, if not more so as far as shareholders are concerned. Bringing these issues into focus could also help bring about an improvement in how investors view the industry in general.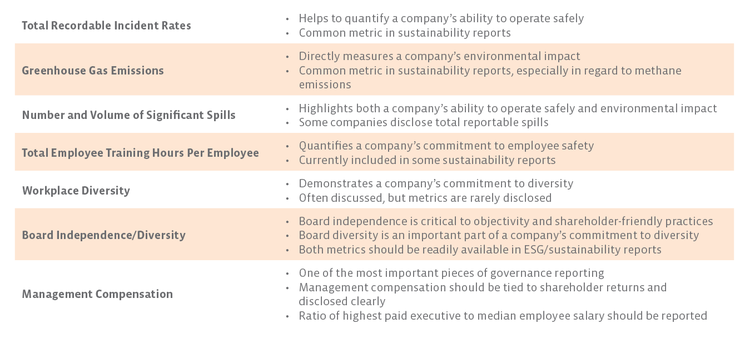 Bottom Line
The growing investor interest in ESG is an opportunity for midstream companies to highlight some of the risk management and safety practices that have long been a priority in the space. The indirect benefits of ESG are plentiful, including greater anticipation of risks, increased investor engagement and transparency, and a public emphasis on important priorities like safety, which have typically been a more internal focus. Going forward, the steps for midstream companies should be to first make an effort to listen and engage on issues important to investors, increase disclosure of ESG metrics, including releasing a sustainability report, and promote uniformity and transparency on ESG data.