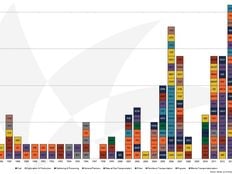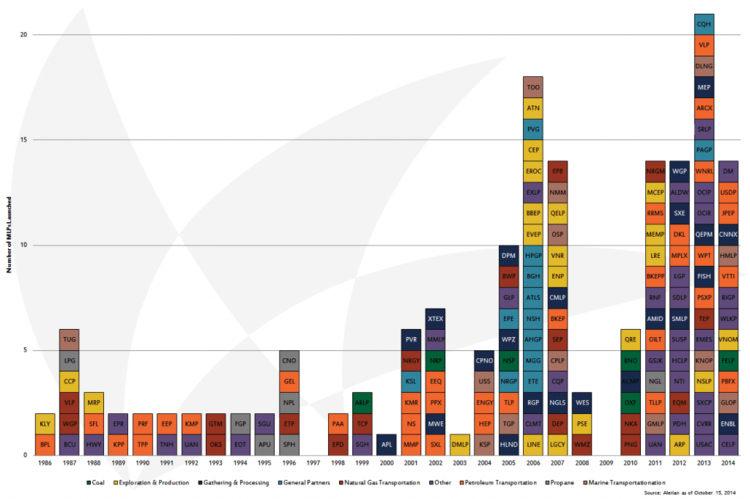 The number of MLP IPOs in any given year depends on a number of factors, including macroeconomic performance, openness of equity capital markets, and new private letter rulings issued by the IRS. During 1997 and 2009 there were no MLP IPOs, reflecting broader market headwinds during the Asian financial crisis and the Great Recession, respectively.
In 2006 and the years surrounding it, a great number of MLPs representing a wide variety of subsectors were taken public. This period also saw the emergence of the publicly traded MLP general partner (GP).

Variable distribution MLPs first appeared when the MLP structure was in its infancy, but quickly fell out of favor as investors preferred companies with steady cash streams and payouts. In 2011, they reemerged, and there are 10 variable distribution MLPs in existence today. Variable distribution MLPs appeal to total return investors interested in a thematic play, rather than stable income.
Looking at how the space has grown, the average IPO size has more than tripled over the past 10 years to $370 million in 2013 from $110 million in 2004. Last year was also a record year with 21 IPOs raising more than $8 billion.
The 14 MLPs that have gone public so far this year have raised a total of $4.3 billion. Cypress Energy Partners (CELP) was the first IPO of 2014. A salt water disposal and pipeline inspection company, it came to market in early January. After its IPO, despite headwinds due to the cold winter, the stock rose as much as 25% from its initial offering price of $20 before giving back nearly all gains during the recent correction.
Enable Midstream Partners (ENBL) is the largest IPO so far in 2014, pricing April 1st at $20 and raising $575 million. Formed by blue chip utility companies CenterPoint Energy (CNP) and OGE Energy (OGE), Enable operates pipeline and storage assets and was recently granted an investment grade rating by Moody's. Enable traded up more than 30% after its IPO but also gave back a significant chunk of its gains in the recent downturn.
GasLog Partners (GLOP), a shipping MLP, and PBF Logistics (PBFX), a crude oil and refined products logistics MLP, both completed their IPOs in early May. GLOP initially priced at $21, but when research analysts initiated coverage at the beginning of June, the share price jumped and peaked in July near $37. PBFX experienced a similar phenomenon upon initiation of coverage, peaking near $30 in mid-July after pricing at $23. PBFX has now fallen below its initial offering price, closing at $21.71 on October 15th. Analyst initiations can boost unit prices initially, but do not insulate any company from the vagaries of the investor market.

Of the 14 new companies, four have made a C corporation tax election and therefore will issue Form 1099s rather than Schedule K-1s. Their election is consistent with other partnerships that do not own or operate domestic assets, and brings the count of so-called Form 1099 MLPs to 11.
Alerian welcomes the newest members of the MLP family. The past two weeks have suddenly turned the year rocky, but we're glad you're here and we look forward to riding out the storm together.
---
Content continues below advertisement