Shifting dynamics with oil essential to the US becoming a net energy exporter.
Oil has been the primary culprit in keeping the US a net energy importer. Oil imports have declined significantly in recent years as shown below, but the US still imported nearly 7.8 million barrels per day (MMBpd) of crude in 2018. To put that volume into context, Permian oil production averaged ~3.5 MMBpd last year. In other words, the US was importing more than twice as much crude each day as was produced in the Permian.
---
Content continues below advertisement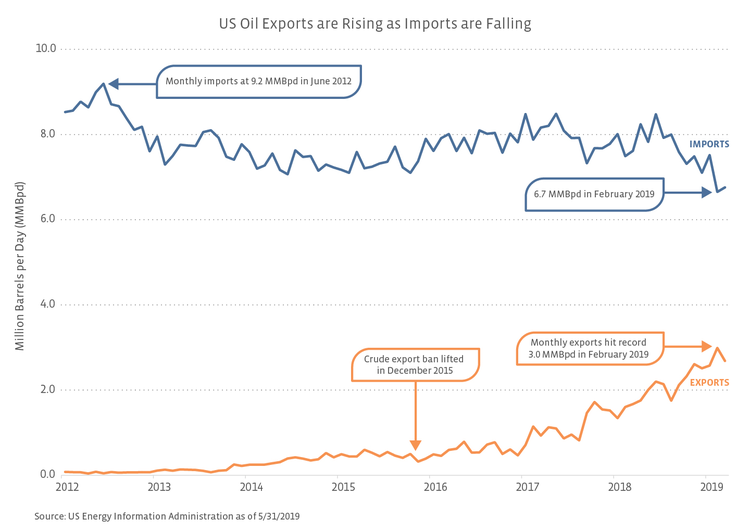 Importantly, the quality of crude imported differs significantly from what is produced in the Permian or other US shale plays. Nearly 60% of US crude imports in 2018 had an API gravity of 25.0 degrees or less, whereas the benchmark crude in the Permian, WTI Midland, has an API gravity of ~43 degrees. Essentially, complex US refiners require heavy and medium crudes, while much of the oil produced from US shale plays is light. For this reason, incremental growth in US oil production is expected to be largely exported, while heavier grades of crude will continue to be imported.
US refiners' demand for heavy crude is just one example of why US energy self-sufficiency (i.e. zero imports) is unlikely for the foreseeable future. Another example includes needed imports of refined products to the East Coast, which is short on refining capacity and will have even less capacity given the announced shutdown of the Philadelphia Energy Solutions refinery last week following a recent fire. Imports of natural gas from Canada for states along the northern border are also likely to persist.
Beyond energy independence.
With growing energy production and rising exports, the achievement of energy independence on a net-exporter basis seems inevitable for the US, but the story doesn't end there. The US is poised to become a leading energy exporter to the rest of the world. The International Energy Agency (IEA) projects that the US will export more oil (including natural gas liquids) than Russia in 2024. This would imply US exports of nearly 9 MMBpd! The outlook for natural gas exports is also robust, with the IEA forecasting that the US will become the world's largest exporter of liquefied natural gas (LNG) in 2024.
What does energy independence mean for midstream?
The combination of growing domestic production and rising exports is not just a recipe for energy independence; it also creates a strong fundamental backdrop for midstream companies. These market dynamics require more energy infrastructure – pipelines to move hydrocarbons to the coast, natural gas processing facilities, and export terminals. The fundamental thesis for midstream remains that energy infrastructure will play a vital role in connecting growing domestic energy production with rising global demand, which midstream will facilitate while collecting fees under long-term contracts, generating cash flows for investors.