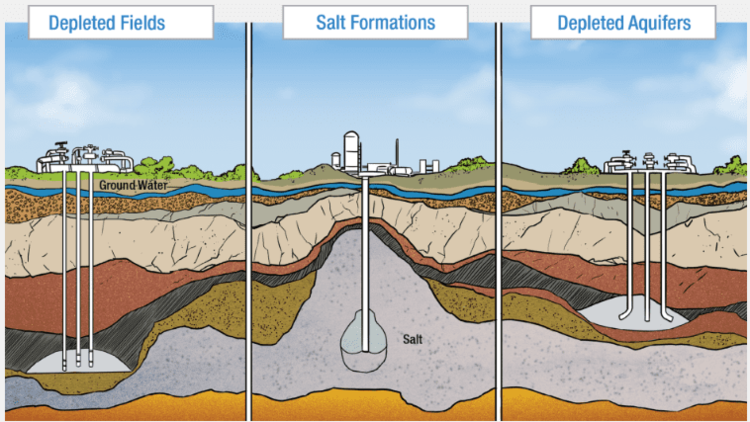 Source // energyinfrastructure.org
When considering storage options, deliverability rates and capacity are often the chief concerns. Simply put, a deliverability rate is how much gas can be removed from a storage facility on a daily basis. The amount of natural gas in a particular space, along with the pressure within it can affect this rate. The compression capabilities, as well as the functionality of the surface facilities can also change the deliverability rate. Capacity is pretty self-explanatory, but it's important to note that working gas capacity refers to the total gas storage minus base gas. Base gas must be kept in a storage space on a permanent basis to ensure a certain amount of pressure is maintained. At the end of January 2016, the EIA reported that there were approximately 7,311 billion cubic feet (Bcf) of total natural gas storage capacity in the Lower 48. Of this, 4,361 Bcf, or about 60%, was base gas.
Thanks to the El Niño winter that kept us Dallasites wearing flip flops all winter long, natural gas storage is over 1,000 Bcf higher than it was during this same time period last year. As of April 22, there were 2,557 Bcf of working gas being stored in underground storage. Last year at this time, there were 1,687 Bcf. Clearly, the use of natural gas and related storage levels are highly dependent upon weather patterns and that's where MLPs like Boardwalk Pipeline Partners (BWP), Niska Gas Storage (NKA), and Plains All American (PAA) come in. With the availability of underground storage, excess gas supply from periods of low demand can easily be reallocated to periods of higher demand.
Hopefully this brief overview has increased your understanding of the way natural gas is stored and shed light on one of the many activities MLPs are involved in. I hope it's also inspired you to repurpose some of your everyday items into something useful. Click here for a list of great ideas.
2016.05.03 2:32pm CST – Edited post image. 
---
Content continues below advertisement