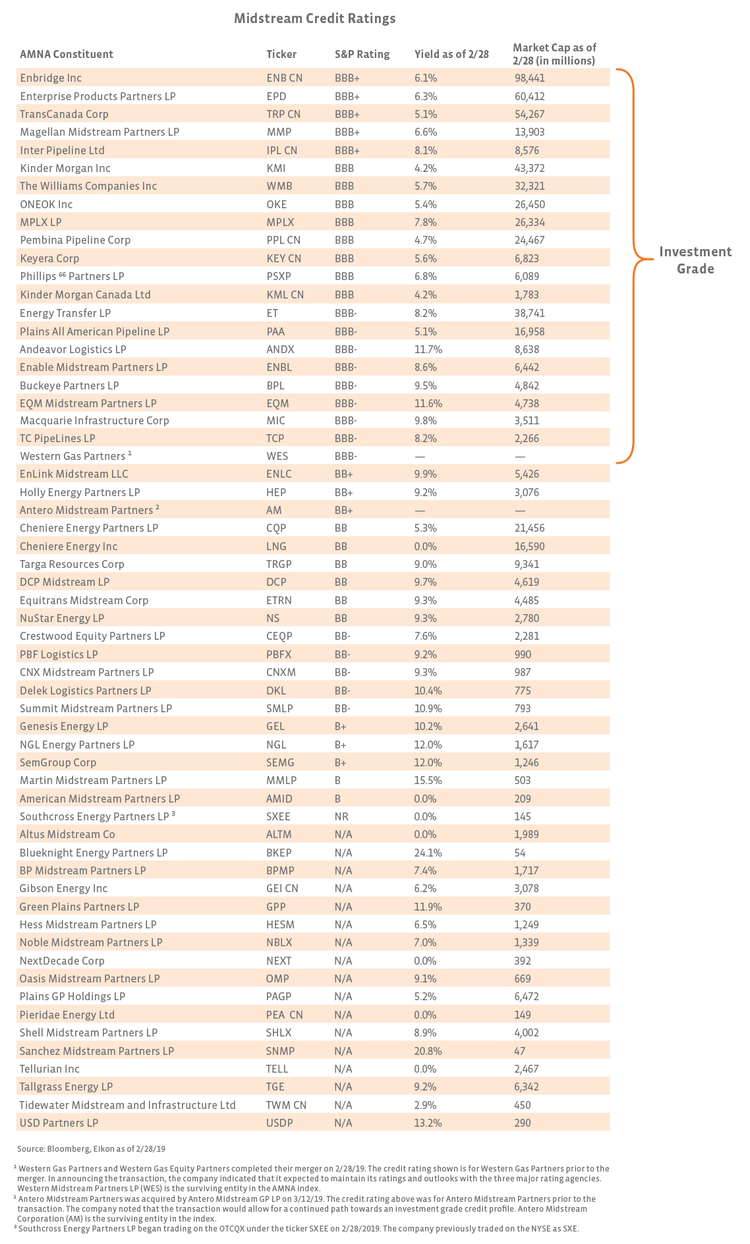 What is the investment-grade weighting in Alerian indices?
The chart below shows the weighting of constituents with investment-grade credit ratings from S&P in five of our midstream indices. Given midstream equity yields shown in orange below, investors may expect lower credit quality for the sector than is the case. One factor in the heavy weighting of investment-grade companies for midstream is the barbell nature of market capitalizations in this space. The indices below are weighted by float-adjusted market capitalization with a 10% cap. As an example, seven companies of the 59 constituents in the AMNA Index account for almost three-fourths of the investment-grade weighting for the index.
As shown in the chart below, AMNA, our composite midstream index, has the highest weighting of investment-grade companies at 83.3%, followed by the Alerian MLP Infrastructure Index (AMZI), which includes energy infrastructure MLPs. The Alerian US Midstream Energy Index (AMUS) is similar to AMNA but only includes US energy infrastructure companies. Finally, the Alerian Midstream Energy Select Index (AMEI) is the investable version of the AMNA Index. AMEI caps MLPs at 25% and includes a liquidity requirement. The Alerian MLP Index (AMZ) has the lowest investment-grade weighting at 70.4%. The AMZ consists of energy infrastructure MLPs but is broader than the AMZI (the AMZ has twelve more constituents). One may expect that the index with the highest investment-grade weighting (AMNA) has the lowest yield, and the index with the lowest investment-grade weighting (AMZ) has the highest yield. For a helpful infographic distinguishing these five indices, please see the appendix to this piece.
---
Content continues below advertisement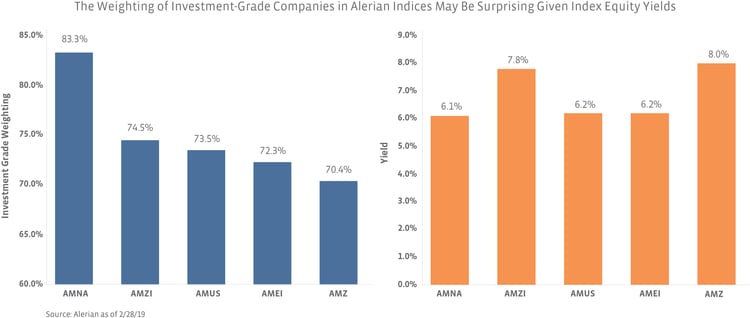 Bottom line
Investment-grade credit ratings are important to midstream companies as a means to lower borrowing costs, which in turn supports better project returns. Midstream's reliance on debt markets for financing growth projects and the barbell nature of market capitalizations result in a heavy weighting to investment-grade companies across our midstream indices.