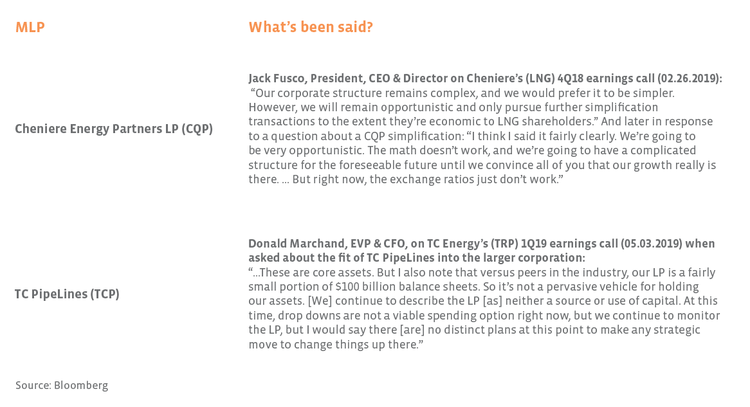 Setting the story straight: consolidations vs. conversion.
Based on conversations with investors, there seems to be a common perception that many midstream MLPs have chosen to convert to corporations. In reality, midstream MLPs have largely been acquired by parents that were already organized as corporations. Alternatively, the acquiring entity was organized as an MLP and retained the structure. NuStar (NS), Energy Transfer (ET) and WES are examples of surviving entities that remained MLPs. Perhaps it is just a matter of semantics, but if there is a perception that midstream MLPs are flat out converting to C-Corps, then the notion is misguided.
In a few cases, a conversion to a corporate structure or change in taxation occurred in conjunction with the consolidation of a midstream MLP. For example, TGE elected to be taxed as a corporation with the merger of Tallgrass Energy Partners and Tallgrass Energy GP. Antero Midstream Corporation (AM) is the surviving entity of the merger of Antero Midstream GP and Antero Midstream Partners, with Antero Midstream GP having converted to a C-Corp and changed its name in conjunction with the merger. Outside of midstream, Hi-Crush (HCR) was a frac sand MLP that converted to a corporation this year, and Viper Energy Partners (VNOM), a mineral interest MLP, became a taxable entity last year. The read-through from these transactions for midstream names is somewhat limited given different business models and likely different investor bases.
What's the outlook for MLP consolidations?
Since December 2018, we have been of the view that MLP consolidations were in late innings, and we maintain that consolidations are largely behind the space. We admittedly did not account for the buyout of BPL by private equity or the potential implications of a new parent for WES. Additional private equity buyouts (which could serve as catalysts for the space) or unforeseen changes by parents are certainly possible. However, with many MLPs having eliminated their incentive distribution rights (IDRs) or already completed a streamlining transaction (see appendix), we see a much narrower opportunity set for consolidation transactions going forward. Be sure to check out next week's piece for a discussion of the midstream landscape and the implications for investors.
Appendix: Select MLP and Midstream Consolidation Transactions
---
Content continues below advertisement