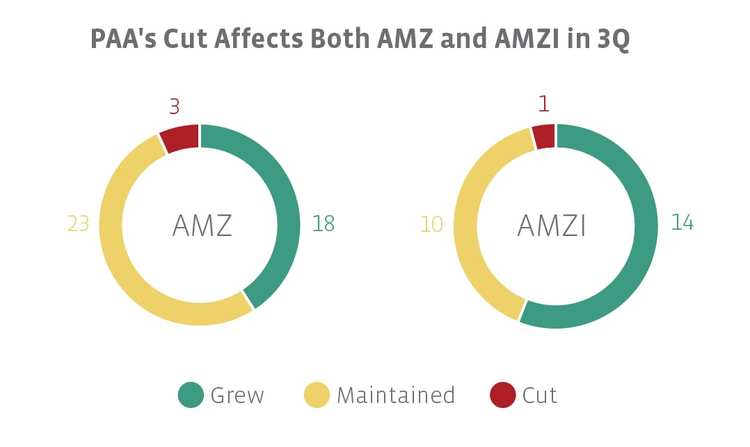 As a reminder, when I say 3Q distributions, I'm meaning distributions that will be paid in 4Q as a result of what happened in 3Q. Plains All American Pipeline (PAA) announced its 3Q distribution cut in 2Q. Although our yield calculation took this into account as soon as the news was released, I waited to count the cut until this quarter since it's just now taken effect.
AMZ Q/Q Fun Facts


Two gathering and processing names, Rice Midstream Partners (

RMP

) and Antero Midstream Partners (AM) both grew distribution by 6.0% q/q to receive top growth honors in the

AMZ

.


Of the 18 MLPs that grew distributions, half increased their payouts by 3.9% or more!
AMZI Q/Q Fun Facts
The top grower between quarters was Antero Midstream Partners (AM). The company grew its distribution from $0.25 to $0.265, or 6.0% q/q.

Shell Midstream Partners (SHLX), Tallgrass Energy Partners (TEP), and Phillips 66 Partners (PSXP) all grew distributions over five percent. TEP was the top grower during the second quarter with a 7.1% bump to its distributions.
Next, we have the year over year data. For these charts, I looked at 3Q 2015 and 3Q 2016. If the name was in the index in both 3Q 2015 and 3Q 2016, I compared the distributions.
---
Content continues below advertisement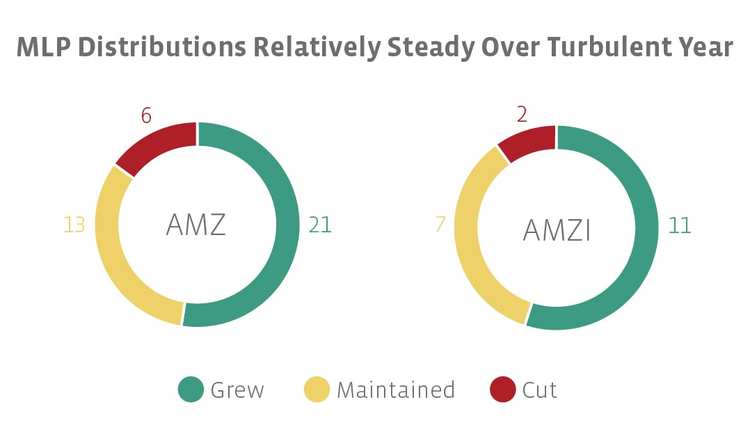 AMZ and AMZI Y/Y Fun Facts


The top distribution grower in the

AMZ

was

TEP

. The company grew distributions by 32.5% going from $0.60 to $0.80.


The top distribution grower in the

AMZI

was

SHLX

. The business increased its payout by 28.7% from $0.21 to $0.26 over the year.


Names that grew year over year: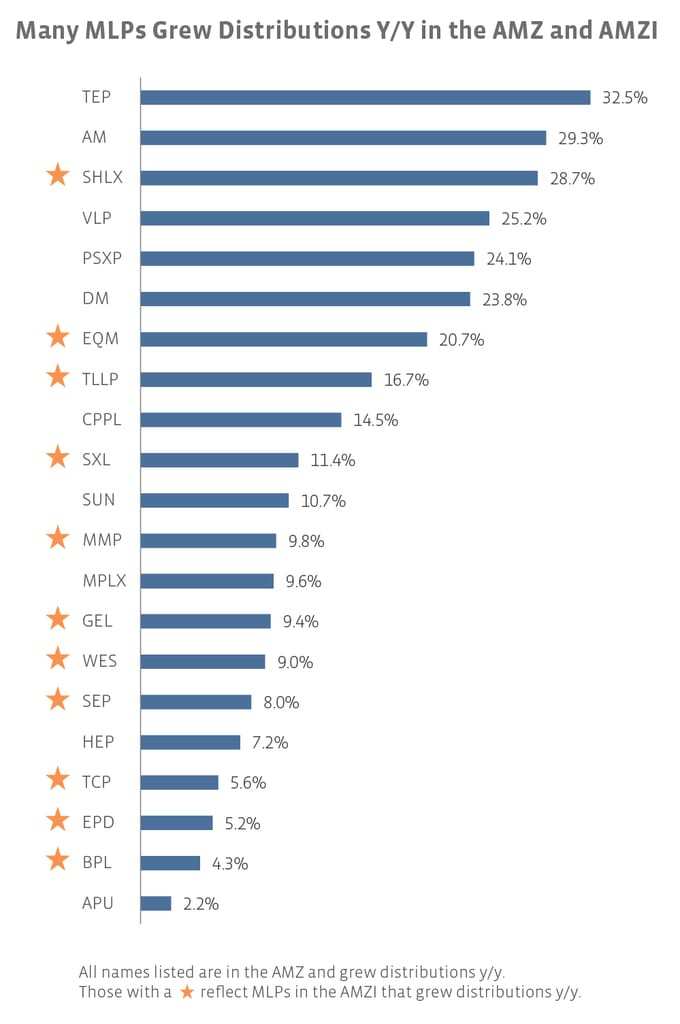 Names that maintained year over year (all names listed are in the

AMZ

, those with a * represent MLPs that are also in the

AMZI

):















More MLPs are still choosing to grow or maintain distributions versus cut distributions; thus, on a full year basis, our distribution growth chart will continue to show y/y growth. As we move forward, we expect to see the market rewarding conservative capital discipline. Given this shift from a focus on distribution growth, it will be interesting to see how our charts look in the quarters to come.
Now go eat some turkey. We're sending you good vibes that you'll maintain your current pant size over the holiday. Happy Thanksgiving!