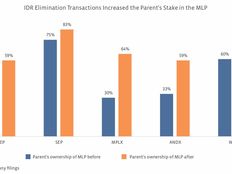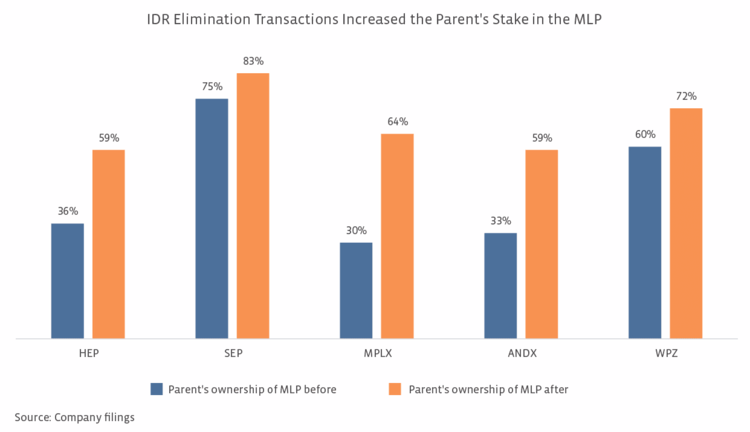 IDR eliminations improve corporate governance.
IDR eliminations also benefit the unitholder from a corporate governance perspective. The interests of the parent are better aligned with the individual unitholder when IDRs are out of the picture and the parent and unitholders are on the same plane in terms of distributions. That isn't to say that the parent won't ever put its interests above those of the MLP, but financial alignment helps. IDR eliminations may also make the MLP space more palatable to generalist investors who have been turned off by the GP/LP structure in the past due to corporate governance concerns or general confusion about the structure. A broader investor base would benefit existing unitholders to the extent that more money flows into the space, supporting equity prices.
Which MLPs have eliminated their IDRs?
As shown in the graphic below, there are several MLPs that have eliminated their IDRs or have announced specific transactions that will result in the cancellation of IDRs.
---
Content continues below advertisement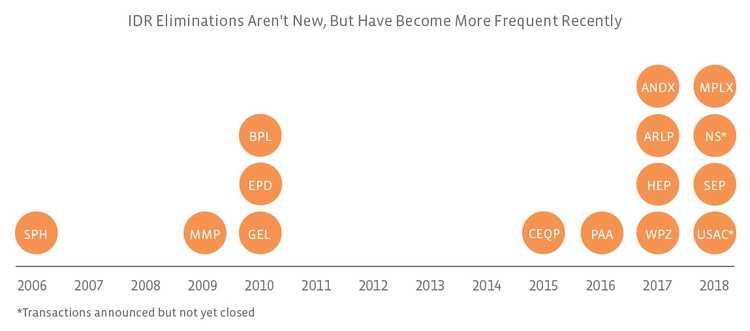 NuStar Energy's (NS) IDRs will be cancelled as part of the merger with NuStar GP Holdings (NSH). USA Compression Partners' (USAC) IDRs will be cancelled in a broader transaction with Energy Transfer Partners (ETP) and Energy Transfer Equity (ETE). For context, approximately 60% of the Alerian MLP Infrastructure Index (AMZI) constituents by weighting have eliminated IDRs (including NS).
IDRs are likely a dying breed.
IDR eliminations are likely to continue, particularly as MLPs mature and IDRs become a greater burden to the cost of capital.  Several sponsors and MLPs with IDRs have acknowledged the limited life span of IDRs. Anadarko (APC), which is the sponsor of Western Gas Partners (WES) and Western Gas Equity Partners (WGP), acknowledged on its 4Q17 call the natural lifecycle for the MLP structure and that there comes a time when the math of the MLP structure with IDRs requires some resolution. APC is actively evaluating various options. EQT Corporation (EQT), which is creating a new C-Corp for its midstream interests in EQT Midstream and EQT GP Holdings (EQGP) said on its recent call that it sees additional value by leaving IDRs in place for now and noted that the cost of capital is not a hindrance. EQT expects the new spin corporation to consider IDRs later. Phillips 66 Partners (PSXP) said on their recent call that their cost of equity is still competitive, but over time, there will come a time when IDRs will need to be addressed.
Bottom line
IDR eliminations have seemingly become a fact of life for maturing MLPs. While lowering the cost of capital is a primary motivation for pursuing an IDR simplification, there are additional benefits for the MLP's stakeholders. More broadly, the elimination of IDRs may make the MLP space more palatable to generalist investors, as the sponsors' interests become more aligned with those of the unitholders.
2018.03.14 9:40 a.m. CST – Corrected chart of IDR eliminations to move EPD to 2010 from 2015.