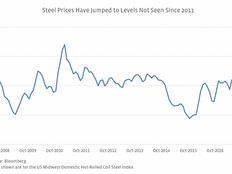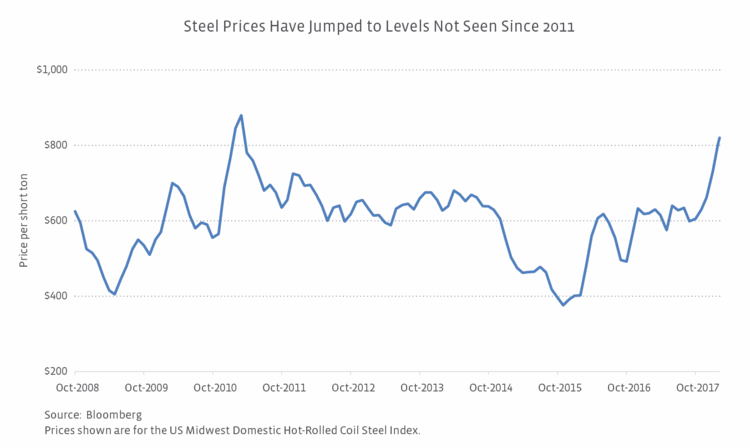 It's difficult to say what proportion of a pipeline project's cost is related to steel given fluctuations in labor and material costs and the varying topography for pipeline locations. We've seen recent estimates ranging from 20% to 40%. Regardless, steel is a significant cost for new pipelines, and midstream companies will have to factor higher costs into new project economics. However, higher steel costs should also factor into tariff rates. MLPs take a conservative approach when it comes to building pipelines, and they typically won't start construction without a degree of certainty as to what their project returns will be. While the headline of higher steel prices and steel tariffs seems negative, higher prices are just something MLPs will have to incorporate into their models and likely pass on to their customers through higher tariffs.
What happened with steel tariffs in 2002?
Of course, this isn't the first time the US has dabbled in tariffs on steel imports. The US imposed steel tariffs back in March 2002. Several countries were exempt, among them Canada and Mexico. Tariff rates were also reduced from their initial levels. The tariffs were originally meant to be in effect for three years but were lifted in December 2003. The impetus for the early removal was a US International Trade Commission report describing the negative impact on steel consumers and showing that the costs were more than offsetting the tariff revenues, resulting in an estimated GDP loss of $30.4 million on an annual basis. Furthermore, the European Union had threatened trade sanctions, and the World Trade Organization had deemed the tariffs illegal. Overall, the tariffs resulted in net job losses. The steel tariffs from 2002 are an interesting historical reference, but we'll have to wait and see what the outcome will be of the new tariffs.
Bottom line
It's too early to fully understand what the impact of the new steel tariffs will be on future pipeline costs and the energy industry more broadly, particularly as country exemptions and relief for certain steel materials play out. We do know that higher steel prices, assuming they persist, will have to be factored into project economics but also future tariff negotiations.
---
Content continues below advertisement