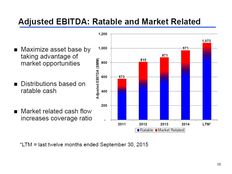 Hennigan promised throughout his presentation that blue bar earnings would continue to move up and to the right. SXL believes that the industry is currently experiencing a "pause" because supply outgrew demand, and we're seeing Economics 101 play out accordingly. Mike is very confident that demand is Safe & Sound, however, and once production levels out, we'll likely see the crude oil markets tighten and be Out of the Woods.
SXL also underscored that although they have been labeled as a crude oil company, they are also in the NGL world. The company firmly believes in NGL exports and has had four successful open seasons with their Mariner projects.
---
Content continues below advertisement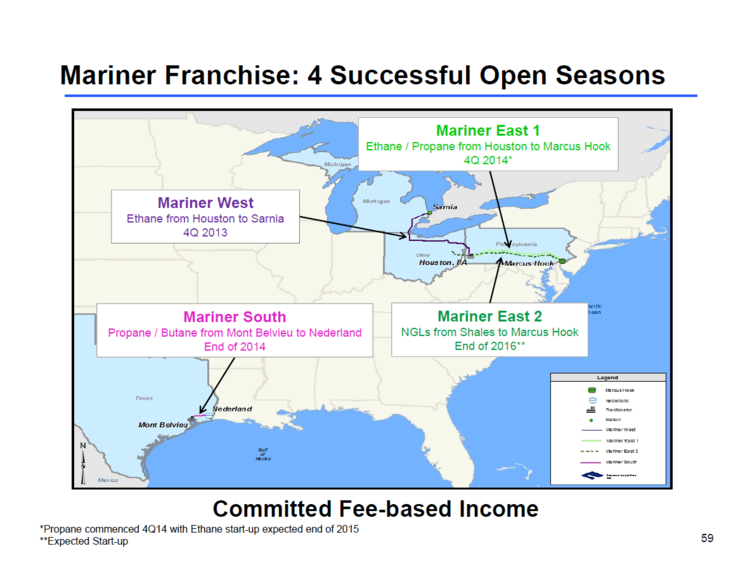 Hennigan expressed his belief that the acquisition of Williams Companies (WMB) by Energy Transfer Equity (ETE) (You Belong With Me) will greatly assist SXL in convincing customers that taking liquids to the East Coast is wise. Currently, WMB advises customers to take liquids to the Gulf Coast and, up until now, SXL has found themselves in direct competition with Williams. It may be fair to say that it used to be Bad Blood, but it'll soon be mad love.
SUN's presentation (slides here) made me hungry. The first few slides covered the big dropdown news. The company will pay Energy Transfer Partners (ETP) $2.2 billion for its remaining wholesale fuel and retail marketing assets. The transaction is expected to close in the first quarter of 2016.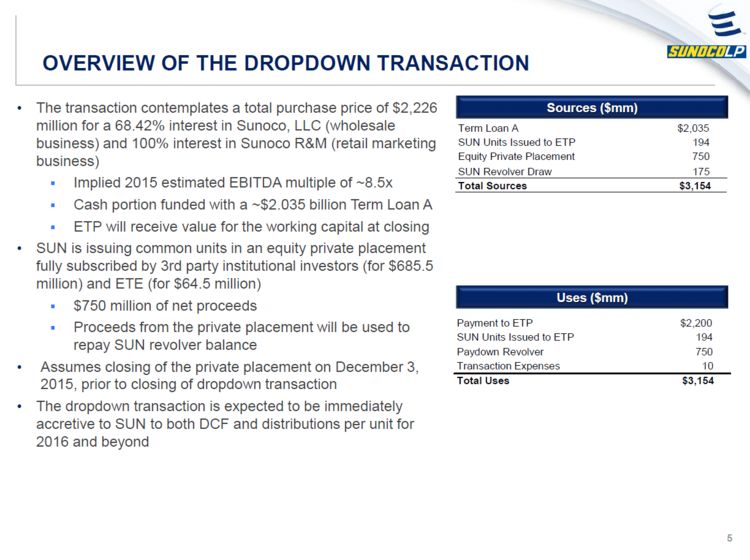 The remainder of the presentation focused on SUN's unique value drivers. Obviously, the company's convenience stores set them apart from most MLPs, but what Bob Owens really highlighted was the pit stop's taco business. Laredo Taco Company, described as having better ingredients than Taco Bell but less expensive than Chipotle, is expected to drive same store sales growth. While there was a time when people wouldn't consider eating gas station food even in their Wildest Dreams, Owens assured meeting-goers that the tide on this is turning, with busier lifestyles bolstering this market.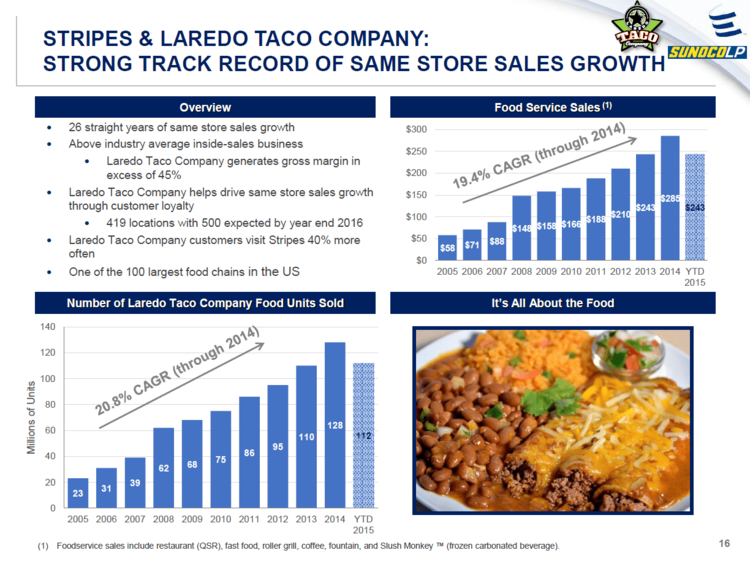 Overall, both partnerships conveyed stability with several visible growth areas. SXL reminded attendees that even in the current environment, projects are still ongoing. We may be in a pause, but Shake It Off investors, oil and NGLs are still in demand. SUN's message was that they have many attributes that separate them from the rest of the MLP pack, like tacos so delicious customers will want to eat somewhere between Fifteen and 22 of them per week. Long Live Sunoco (Logistics Partners and LP).